Vanessa, Travel Professional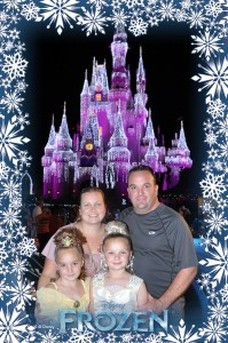 "We keep moving forward, opening new doors and doing new things because we are curious, and curiosity keeps leading us down new paths." ~ Walt Disney. I am so excited to help you plan your dream Disney vacation!
My family loves Disney. From trips to the
Walt Disney World®
Resort and the
Disneyland®
Resort, cruising on the Disney Dream, to singing Disney songs and watching Disney movies, we are truly a Disney family. My husband, Kurt, and I traveled to the
Walt Disney World®
Resort for our honeymoon. We welcomed twin daughters, Kaitlyn and Breanna, into our lives and they quickly became Disney fanatics, too!
I find the planning stages of Disney trips to be a huge part of the fun. I enjoy planning the big decisions to the minute details associated with a Disney vacation. Our family loves to try new resorts and dining experiences. We have stayed in various resorts, from deluxe, to moderate, and value. We have tried many dining experiences including signature dining and dinner shows, and the Wishes dessert party. One of my daughters has a life threatening food allergy so I also have firsthand knowledge as to how wonderful and accommodating Disney cast members are at putting our family at ease.
Disney truly is a vacation that everyone from the tall to the small can enjoy. I look forward to sharing my Disney knowledge and first hand experiences with your family as I help to plan your dream Disney vacation. Whether this is your first trip or you are a seasoned Disney traveler, I will listen to your family's needs and pledge to pay close attention to detail to ensure you have the most magical and memorable experience possible. Just sit back, relax, and enjoy!
Contact Vanessa:
vanessa@tinksmagicalvacations.com
Vanessa is a vacation planner for Tink's Magical Vacations and a graduate of the College of Disney Knowledge.
---
Here's what Clients say about Vanessa...

"Our trip was awesome!! I can't wait to talk to you about it. Thanks again for planning such a memorable vacation. My mom took care of our cat, Daisy, and stopped by this afternoon and Joe showed her ALL of the pics that were taken in Disney. EVERY meal was great and so were the fast passes that you planned for us. We could use another week to see everything at all of the parks and the springs. It was TRULY amazing. Thank you SO much!!!"

~~Katrina