Todd, Travel Professional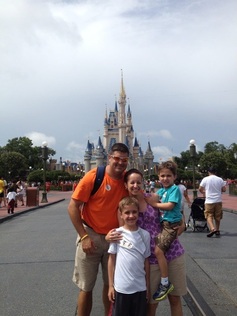 Six feet of Disney heart and soul is ready to help you plan the ultimate magical Disney experience! My name is Todd Zenczak and I am here to provide you and your loved ones a superb Disney vacation.
My first experience at the the Walt Disney World® Resort was when I was a young child. Traveling with my parents and older brother we stayed down off property, as it was a more affordable plan. Fast forward twenty years later my wife and I traveled to Walt Disney World® a few times, stayed on property, and enjoyed many special experiences as adults. We took a behind the scenes tour to see how the magic really happens and it was truly remarkable. This is a tour that I highly recommend to any Disney aficionado.
When our sons were born, we both were super excited to share the Disney experience with them. They grew up watching many YouTube videos leading up to our first trip as we could not wait for the boys to enjoy Disney as well. My greatest Disney moment was when I saw the pure joy and excitement in my boys eyes as they first laid their eyes on Cinderella's Castle from Main Street USA. That moment brought tears to my eyes and will be a magical memory I will never forget.
I have one of Walt Disney's quotes on my office wall, "If you can dream it, you can do it" and with some of my support and pixie dust, I will help you achieve an enjoyable vacation.
Contact Todd: Todd
@tinksmagicalvacations.com
Todd is a vacation planner for Tink's Magical Vacations and a graduate of the College of Disney Knowledge.
---
Here's what client's say about Todd...

My family and I just returned from our first Disney vacation! It was truly amazing and couldn't have been more perfect. I wanted to let you know that our trip was planned for us by Todd Zenczak, one of your travel professionals. He was fantastic and took all of the stress out of planning this vacation. I didn't have a clue on how to start planning for such a big trip and Todd helped me each step of the way. He answered my questions (as dumb as they often were) quickly and professionally. I felt confident that this would be an amazing trip.
Prior to leaving for the trip Todd sent us a card in the mail with a gift card for Disney. This was very thoughtful and we really appreciated this touch. Once our trip arrived Todd checked in with us daily to be sure we had everything we needed and that the trip was going smoothly. He really made our trip more special.
We will definitely be returning to Disney and Todd will be the first person I contact to start planning. Thank you so much for this service!
Sincerely,
Meghan O'Brien