Scott, Travel Professional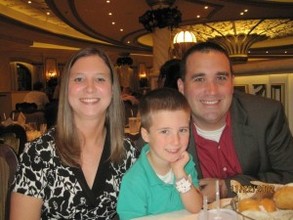 Growing up, my one and only trip to the the
Walt Disney World®
Resort was when I was eight years old with my grandparents. I remember riding Space Mountain and Big Thunder Mountain Railroad over and over by myself! My next
Walt Disney World®
Resort trip was for my honeymoon some 14 years later. Soon after that honeymoon trip my wife and I joined the Disney Vacation Club. Nearly ten years, four additional DVC Contracts, over thirty Disney Vacations, and nearly ten
Disney Cruise Line v
acations I think that it is safe to say that I am hooked on Disney!!
I was born and raised in North Georgia and actually still work in my hometown. I married my beautiful bride, Christy, in 2001 and in 2008 the Lord blessed us with our one and only son, Evan! I previously taught middle school math for ten years (yes, I realize that basically makes me a saint,) and now I am an Assistant Principal at the same middle school. Over my teaching years I coached Track and Field, Football, and Basketball. I love working in a middle school setting because no two days are ever the same. My favorite Walt Disney quote is "Most of my life I have done what I wanted to do. I have had fun on the job." This quote truly characterizes my daily life working with eleven to fourteen year olds!!! I am very fortunate to have three college degrees: a Bachelors of Science in Middle Grades Education from North Georgia College and State University, a Master in Educational Leadership from Kennesaw State University, and an Educational Specialist in Educational Leadership from Georgia College and State University.
I believe that I have a wealth of knowledge to offer about the
Walt Disney World®
Resort and
Disney Cruise Line
. I love my Disney Vacation Club Membership and the opportunities and experiences it has provided for me and my family. I was very fortunate to be selected as a member of the 2012 Disney Parks Moms Panel. It allowed me to help guests plan their
Walt Disney World®
Resort vacations and I am so excited to be back in that role as a vacation planner and to walk along side families during their Disney vacations and be their personal concierge. I love living through other's Disney vacations that I have helped plan and come true. I am so excited to become part of the Tink's Magical Vacations Team. Like Walt Disney once said, "Whatever we accomplish belongs to our entire group, a tribute to our combined effort." I believe this epitomizes the Tink's Team and the commitment to excellence we desire to offer while helping make "Dreams Come True!"
Contact Scott:
scott@tinksmagicalvacations.com
Scott is a vacation planner for Tink's Magical Vacations and a graduate of the College of Disney Knowledge.
---