Mindy and Jim, Travel Professionals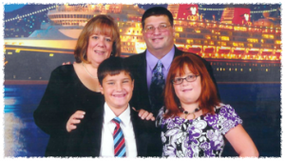 Between the two of us, we have experience in the Disney Parks since the
Walt Disney World®
Resort first opened in 1971. We have stayed at many of the resorts from value to deluxe and the villas, and have been in all the North American parks.
We are platinum level (10 or more cruises) on
Disney Cruise Line
and on all four ships with itineraries in the Mediterranean, Northern Europe, Alaska, the Caribbean, and the Bahamas. We have tried out the regular rooms as well as the suites. We have even become friends with many crew members.
We both work full time in addition to working as travel professionals and are living proof that busy people can get more done. Our spare time is spent raising our twins, attending horseshows (with our daughter who is an equestrian), learning to cook new foods, and planning our next Disney vacation. Our daughter is currently in the process of earning her Girl Scout Gold Award, and Mindy is active in the local Girl Scout council.
Let us put our love of all things Disney, and our enjoyment of travel, to work for you. We can offer plenty of tips to help make an amazing Disney vacation even better!
Contact Mindy and Jim:
mindy@tinksmagicalvacations.com
Mindy and Jim are vacation planners for Tink's Magical Vacations and are also graduates of the College of Disney Knowledge.
---
---

Oh My Gosh!!! We had so much fun. I never imagined in a million years how absolutely fabulous it would be. I tried to text you from Mexico (my work phone seemed to have minimal coverage). It was fantastic. We want to book another one J. We were going to do it on board but decided to wait for you... plus the cruise was really expensive when you started to add in excursions... regardless it was fantastic. Our staterooms were awesome & in the perfect location! My whole family loved the gift bag...especially the pins and the lanyards. Lanyards really are essential. The food was great. The service was great. Remy's may have been the best meal I've ever eaten in my entire life. If we could have, we would have licked out plates clean!
The excursions were great. The one in Cozumel we did was unbelievable. We went snorkeling in a cave! It was unbelievably gorgeous...amazing. Then we went to the most pristine beach I've ever seen. The food there was ok. The Mayan excursion to the ruins was fantastic. I paid extra for us to be taken to lunch and a beach but I wouldn't do that again. The food was covered in flies L and the beach was not nice... but that was seriously the only quasi down moment. The ruins were so cool. Then we swam with the dolphins and I'm so glad we did. It was so much fun, the kids loved it, the facility was pristine and the animals seemed really well cared for. It was fantastic.
Castaway Cay is a dream...loved it there so much. Would have liked to stay an extra day. We just relaxed, floated, swam ... it was seriously the best vacation we've ever had –w e all decided hands down –and my parents own multiple timeshares so trust me – we've been on a late of vacations!
I just can't say enough about it except that I HATE being home.
We want to do the eastern carribean (enjoyed Cozumel but don't really want to go back to Mexico) AND Alaska. Our waiter told us for the eastern carribean to try and wait til 1 month before and go May/June or Sept/Oct. So, I think we'd like to try and get one in May/ June and/or Alaska in the summer.
THANK YOU SO MUCH!!! EVERYONE WAS SO APPRECIATIVE OF YOU AND YOUR HELP. From stateroom placement to all the little things... THANK YOU - Amy Musolino


Here's what Clients say about Mindy...

"Hi Mindy, Oh where do we start!? Thank you for all you did for us. Your guidance and planning support helped make this a most magical and wonderful trip. Thank you, thank you! We had a great time and everything worked out perfect. The Magic Express was a dream, OKW was a great place to stay and the dining plan worked out amazing. The memory maker was worth EVERY penny for sure too. We made sure to grab as many photographers as we could. How some people can say that they never see one is beyond me! We managed to perfect the Fast Pass system, meet every princess and as many characters as possible and overall, had the best time ever. The only downside was feeling so "managed" as far as having to keep to a schedule but looking back, if we hadn't done it that way, we wouldn't have been able to do it all. We maximized every opportunity – extra magic hours was the best thing ever – and still got a nap in most days for our 4 yr old! Your tips and support truly made this a fabulous trip. Thank you again! — Sheila"

Hi Mindy,
The trip was great! It did take them a little while to get us into a room when we arrived but im sure that's because we were originally going into a room right next to the construction and the lady at the desk offered us a room further away from it. We did end up cancelling one of our breakfast reservations because we knew we were going to want to be a little lazy in the morning and we went to breakfast at the resort instead. Right now Caribbean Beach has a breakfast and dinner buffet in a tent. The breakfast, I thought was going to count as a table service meal but it actually counted as a quick serve and it was really good. The dinner buffet in the tent is a table service though. There is also a food truck at Caribbean beach that is quick serve. We were happy with all of this. We did get the gift card that you mentioned. They also left a bag of goodies in the room one day with a post card thanking people for their understanding with the refurbishments. It had things like cereal, granola bars, waffles and little cartons of milk that didn't need to be refrigerated. Very nice.
Our only complaint was that the buses seemed to be a long wait all week. Not sure if that had anything to do with the construction or the weather or what but I don't remember waiting so long for buses last time (sometimes 40 minutes or more).
Also, we learned that we are practically incapable of eating all the food on the dining plan...lol. I have a huge bag of Disney rice krispie treats, cookies and candies hidden in the closet right now 😅
Thank you for everything. I have already told friends they should call you!!
Kathleen


---

Hi Mindy! Yes, back to reality!! We had a wonderful time and Owen so enjoyed the experience. He did everything on his wish list(that he was tall enough to do), and will need to grow a bit more to finish his "Disney bucket list"!
The AllStar Movie hotel worked out great... our request for the Mighty Ducks building was met and we took the buses from All Star Music, as that was just across the street.
The transportation system was wonderful. The buses were plentiful and clean!! Kudos to Disney for that. All our FP's were honored, as well as all the food reservations. And the food was decent!
Was disappointed with Pandora and Navi River ride. I do not get it?! We did have FP for that, but the waits for stand-by were up to 2+ hrs and certainly NOT worth it!!! Of course I did not see Avatar, but not a fan of that area. Pretty, but not worth the time. The flight ride there may have been better, but Owen was not tall enough to ride.
He did get to do the Jedi training, which he totally loved and had meet and greets w/Kylo Ren and Chewbacca!!! Love,love,loved!!
The crowds were heavy. Had been there in Nov. in 2012&2014 and it was not nearly as crowded then! I guess the economy has much improved since then.
All in all, it was a great trip. Thank you so very much for all your help. I will be sure to recommend you and will be in touch in the future if we decide to do a Disney cruise!
Have a Happy Thanksgiving and holiday season!
​Chris McCarthy