Margie, Travel Professional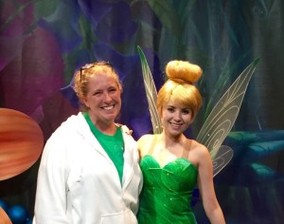 I often get asked why do I love Disney and go to the
Walt Disney World®
Resort so often. My family and I enjoy everything that Disney has to offer, from the beautiful resorts, the amazing restaurants and lots of fun in the parks, we find that each time we go it's a different experience. We've celebrated many milestones in life and have made so many unforgettable memories with family and friends. When they ask me that question, I tell them it truly is the happiest place on earth. Several of my family members and friends have decided to join my family on a trip to the
Walt Disney World®
Resort and now they understand why I love it so much. Each year as we vacation there, our group gets larger and larger and we have so much fun. One year we had a large group of 22 going of all ages and we had such an amazing time. Now we often will have Disney themed planning parties with our family and friends because we enjoy planning our Disney vacation together.
My first trip to the
Walt Disney World®
Resort was back in 1973, with my grandmother who loved to travel. I have so many fond memories from that first trip. The next time I went was in 1998 with my husband and it was his first time. He also fell in love with the Disney magic. We now have two grown boys who have enjoyed going on family vacations to Disney with family and friends. There is nothing more magical than seeing your child give one of their favorite Disney character a huge hug! It will bring you to tears. Many think that my boys would be bored at Disney now that they are grown, but they still enjoy going. Each time we go it's a different experience.
Our goal on each trip is to try a new restaurant. I have enjoyed meals at 60 different counter service restaurants, over 45 table service restaurants and 3 of the entertaining dinner shows. Since they introduced the Dining Plans, we have been able to enjoy so many wonderful restaurants that I probably would not have tried, if I was not on the Dining Plan. We love being able to enjoy the character meals and see some of our favorite characters.
The past 20 years we have been blessed to go to the
Walt Disney World®
Resort over 25 times. I have stayed at value resorts, several moderate resorts and many of the deluxe resorts and each one is a unique experience. I have learned the ins and outs to plan Disney vacations suitable to fill all your family needs, ages and budget. My extensive knowledge of Disney resorts and restaurants I can help you plan an enjoyable experience regardless what budget is.
Being a planner who specializes exclusively in booking Disney vacations — at the
Walt Disney World®
Resort, the
Disneyland®
Resort,
Disney Cruise Line
,
Adventures by Disney®
, and Aulani, A Disney Resort & Spa — allows me to do what I love. My many years of experience with both small and large groups visiting Disney, I can help you with the planning and so you can enjoy a magical vacation.
Contact Margie: Margie@tinksmagicalvacations.com
Margie is a vacation planner for Tink's Magical Vacations and a graduate of the College of Disney Knowledge.
---