Lynn, Travel Professional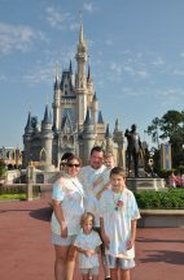 My first trip to the
Walt Disney World®
Resort was in 1983 when I was four years old. I have been many, many more times since then. Taking a trip down to Florida to visit the
Walt Disney World®
Resort has always been my family's favorite vacation destination. My first real memory was in 1986 during its fifteenth anniversary. I still remember the songs they played and sung during the parade and the gifts they were giving out to the guests. I grew up in a Disney loving family and as I have gotten older my love of Disney has grown. I have been to the
Walt Disney World®
Resort as a child, teen, adult and now as a mother.
I was born, raised and live near the mountains of North Carolina. In 2007, my husband and I were married at the Grand Floridian's Wedding Pavilion with the beautiful view of Cinderella's castle in the background. I truly felt like Cinderella marrying my Prince Charming. I am a stay at home mom of two princes and one princess. My kids' first trips to the
Walt Disney World®
Resort happened when they were one year old and they each love Disney just as much as I do. I love seeing their faces as we walk down Main Street and love hearing them laugh and giggle when they are on the favorite ride or meeting their favorite character.
When we go to the
Walt Disney World®
Resort we try to stay at a different resort every trip. I have stayed at all the values, moderates and two of the deluxe resorts. My favorite value resort is the Art of Animation, my favorite moderate resort is the Port Orleans French Quarter and my favorite deluxe resort is the Polynesian. My husband and I celebrated our 5th anniversary with a
Disney Cruise Line
sailing on the Dream.
Disney Cruise Line
has spectacular service and will spoil you. My favorite port is Disney's private island of Castaway Cay. Everyone questioned why we would want to take a Disney cruise without kids. I am here to tell you that Disney is not just for kids. Whether you go to the Disney parks or go on a Disney cruise, there are many fun and romantic options for adults.
I hope to take a trip to the Aulani, A Disney Resort & Spa and to experience an
Adventures by Disney®
trip in the future but my dream is to go out to California to the
Disneyland®
Resort and experience the park that Walt built. Walt Disney is such a great inspiration to me and I follow many of his quotes. One of my favorite quotes is "If you can dream it, you can do it."
It would be my honor to be your agent and to help you plan the most magical Disney vacation for you and your family. I can help you plan your days in the parks, book your dining reservations, give you tips and everything else in between that will make your Disney vacation a memorable one.
Contact Lynn:
lynn
@tinksmagicalvacations.com
Lynn is a vacation planner for Tink's Magical Vacations and a graduate of the College of Disney Knowledge.
---
Here's what clients say about Lynn...

Lynn was AWESOME to work with. She promptly answered all of my questions and was able to get all of the dining reservations that we wanted. Thank you so much for being amazing and working with me even when I up and decided in the middle of planning that we were going to get annual passes. You made our first ever stay on property extremely magical. From getting us a garden view royal room in the building that we requested to the hard to get dinner reservation at "Be Our Guest" I thank you for making our anniversary trip so magical!
~Lauren Moore


---

"Dear Lynn, We could never thank you enough for all your hard work in providing us the PERFECT first family Disney vacation! Everything was wonderful – from on-time reservations, to our rooms, from your heads up on FastPasses, to great tips on how to navigate the parks. We really appreciate how quickly you helped us handle things even on the go when we were actually IN the parks! You made magic for us by having such stellar service ALL of the time! We are letting all our friends know about you. We are looking forward to our next trip and will definitely be booking through you! Thanks again! The Curtis Family"

---

"Lynn,
Thank you for all of your help in planning our Disney Vacation. Thank you for all the goodies you sent us in the mail. We are beyond excited. You have been AWESOME and have made this (overwhelming experience for a mom) so easy and stress free!!! Thank you!!! Katie Barbee"

Lynn has been AWESOME helping me plan my Disney vacation for my family!!!! Thank you so much!


---

Lynn Brooks has been a great agent she has taken care of all my Disney Cruise Line stuff . She has answer all my question and gave me helpful information to make my trip easier . I would recommend her and Tink's Magical Vacations to all my friends and family
Thanks,
Dina Trentacosta