Laurie-Rae, Travel Professional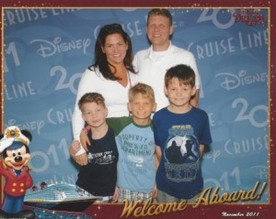 As many of us know, throughout our lives there are few things that continue to provide us with a consistent source of happiness and joy, for me it is all things Disney. As a married mother of three beautiful boys, you can imagine that our life is full of the everyday tasks that keep us busy; school, work, projects, sports, appointments, etc… Often times it is difficult to find the time to slow down and enjoy much needed family time and create valuable memories that last a lifetime. Our trips to Disney destinations have afforded us that special time we all need to break away from the everyday routines and truly make magical memories!
My passion started as a small child visiting the
Walt Disney World®
Resort annually and luckily for me, my husband also had the same childhood experiences. To continue the tradition, he proposed to me on a beautiful December night in 1998 right in front of Cinderella's Castle at the Magic Kingdom during Mickey's Very Merry Christmas Party. That night was the beginning of our family's Disney memories, and we have never looked back! As we began having our own children we continued our at least once a year pilgrimage to the
Walt Disney World®
Resort and learned all the tricks and trades of traveling with small children. (Yes we were one of those families with the double and single stroller, backpacks and car seats on our heads through the airports). We never questioned once if it was all worth it. Now that my boys are older, they remember every trip and look forward to the next one like it is our first visit.
In 2011, we booked our first
Disney Cruise Line
sailing on the Disney Dream and that was it! We found the cruise to exceed our "Disney" expectations and were thrilled to know that we can travel with the same level of customer service and that special Disney attention to detail that we have come to expect from any Disney trip. To wake up each morning in a glorious new port of call all while enjoying our Disney "home away from home" was an experience we were sure to repeat. We are currently counting down the days until our third cruise on the Disney Fantasy and we cannot wait!
I am excited at the opportunity to offer my expertise in Disney travel to families and help them create their own memories that will last throughout their lifetimes. There is a special feeling you get when reminiscing about that magical moments shared with family and friends at a Disney destination. We often travel with a multigenerational group, from three months to eighty years old, and still we are able to navigate through the many wonderful options Disney has in store for us, from a romantic dinner date night to an afternoon with the princesses and pirates. No matter how often we visit, sometimes up to three times a year, each trip is different with new experiences! There are so many wonderful options for dining, accommodations and activities to fit every budget.
As a Disney College of Knowledge graduate, my goal in planning your Disney vacation is to provide a start to finish comprehensive itinerary for your vacation without overlooking any detail. I have worked with first time families to expert Disney travelers and each time is such a thrill. The most important thing for me is to educate you on the details specific to what you are looking to experience while affording you and your family the ability to relax not only during your trip, but also through the planning process.
I look forward to working with you to help you and your family experience the joy we have as a family which has enriched our lives with Magical Memories!
Contact Laurie-Rae:
Laurie-Rae@tinksmagicalvacations.com
Laurie-Rae is a vacation planner for Tink's Magical Vacations and a graduate of the College of Disney Knowledge.
---