Lauren, Travel Professional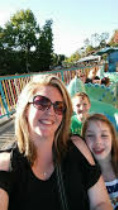 As a child, I experienced many Disney vacations with my family. I remember the excitement, wonder, and amazement I felt well into my teenage years. But it wasn't until I was an adult that I fell in love with Disney. My first vacation with my husband was a Disney cruise which happened to be his first Disney experience. On that trip, we both gained an appreciation for what we called the Disney experience. As the years have gone by our family has grown and so has my love for Disney vacations. I took my son for the first time when he was 10 months and my daughter when she was 8 months. Although they were too young to truly appreciate it I appreciated the wonder on their faces. One of my favorite pictures is of my infant son on Small World, his eyes are the size of saucers and his smile is huge. We have since become DVC members, Gold Castaway club members, and visited Walt Disney World more times than I can remember. Each trip feels like the first time because there is always something new to experience.
My love for Disney has turned into a passion. I love sharing Disney with everyone. I have introduced many family members and friends to Disney vacations over the years. I have watched many of them fall in love with Disney. There truly is something so special to hear the excitement and wonder in their voices when they tell you about their first Disney vacation. I believe everyone should experience a Disney vacation at least once because no one does it like Disney. I'd love to use my knowledge and experience to help you have a magical Disney vacation too.
Contact Lauren: lauren@tinksmagicalvacations.comLauren is a vacation planner for Tink's Magical Vacations and a graduate of the College of Disney Knowledge.
---
Here's what clients say about Lauren...

We wanted to express our appreciation for Lauren's professionalism, follow thru and customer service support for our recent Disney trip/ cruise. Her advice and recommendations were spot on and her follow up excellent.
We were a large group...4 families,in three different states. I often question the value of using a travel agent vs doing it myself on line. After working with Lauren, we saw and appreciated the value added.
We will use your services again and will recommend your agency/ Lauren to our friends. She rated a 5 star. Thanks
Elevene Bryant