Kristin Guillmette, CEO/CFO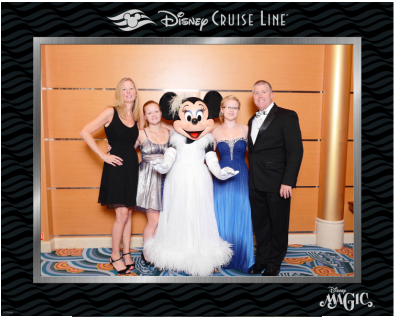 As Walt Disney once said, "If you can dream it, you can do it." I have dreamed about owning my own Disney Travel Agency for a long time. I feel blessed to be able to say that my dream is now a reality. I am fortunate enough to be sharing my dream with a few of my dear friends. What was once a simple dream has now enabled us to share our love of Disney so that we can help make dreams come true for other families.
My love for Disney started thanks to my Prince Charming (aka: my husband Bruce). After one year of marriage Bruce decided to surprise me with my first trip ever to the
Walt Disney World®
Resort. As they say, the rest is history. Before that first trip was even over I was already planning our next one. I even became so obsessed with visiting "the mouse" that we would fly down on a Friday evening after work and return home on a Sunday night.
Once our twin princesses were born we shared our love for Disney with them. At the young age of ten months old we brought them on their first trip to see Mickey! Their laughs and giggles ensured us that they loved being there as much as we did. We quickly planned our next trip to the Grand Floridian when the twins were only sixteen months old. This trip was special for us since we became Disney Vacation Club members.
Since that trip our family has been to the
Walt Disney World®
Resort many times with several more trips already planned. We have stayed at most of the hotel properties at the
Walt Disney World®
Resort. A few of the cast members at our "Home Away from Home" know our children by name. We have been annual pass holders since 2009 and love going to our second home.
Our love for Disney goes beyond
Walt Disney World®
Resort. We have been fortunate enough to have sailed with
Disney Cruise Line
on all four ships in the fleet. Our sailings have provided us the opportunity to meet many other Disney enthusiasts.
Beyond the cruise ships and theme parks we have been to Disney's Vero Beach which allows our family to unwind on the beautiful beach after many busy fun filled theme park days.
Our family has also jet-setted off to Aulani, A Disney Resort & Spa to vacation to visit a dear friend that works there. We also traveled there with some close friends and had an amazing time checking out the property and enjoying all of the special magic and amenities it had to offer.
The
Disneyland®
Resort is my family's favorite west coast destination. Our family loves exploring Walt's amazing park. The place breathes history and grand adventures. I highly recommend spending several days experiencing Magic Kingdom Park and California Adventure. Downtown Disney is full of all sorts of great restaurants and shops.
Our most recent vacation had us on an Adventures by Disney trip to Italy! This amazing opportunity provided me the chance to experience first hand what world class Disney service really means! I can't can't say enough about the tours offered by ABD and their impeccable service amenities.
As a former first grade teacher I understand what it means to see the sparkle in childrens' eyes when they see or hear something for the very first time. When you have the Disney experience your eyes will sparkle with excitement and joy. I am a graduate of the College of Disney Knowledge and look forward to being able to sprinkle pixie dust on your Disney dreams.
"If you can dream it, you can do it. Always remember that this whole thing was started with a dream and a mouse."
~ Walt Disney
My goal is for you to feel the magic the same way that my family has!
Contact Kristin:
kristin@tinksmagicalvacations.com
Kristin is the Chief Executive Officer and Chief Financial Officer for Tink's Magical Vacations. She also is a Cruise Industry Travel Agent (CLIA) and a graduate of the College of Disney Knowledge. She was recently chosen to be on Disney's EarMarked Travel Advisory Council, a group made up of only 20 travel agency owners who are appointed by Disney's leadership to represent the diversity of agency's in Disney's EarMarked program.
---
---

Here's what Clients say about Kristin...

"Kristin took care of everything, and her knowledge of all things Disney made navigating multiple parks and tens of thousands of people a breeze." Dennis House (Read his entire review here)

Tinks is the most able customer service company I have ever dealt with. Kristin's knowledge of all aspects of Disney is exceeded by her ability to treat her customers as family. Our adult wheelchair bound son loves Kristin and her family as if they were actual family - from FaceBook

Dear Kristin, thank you so much for all your hard work helping us plan our Disney Vacation. We all had a fabulous time.. It was wonderful🎈🎈 Barb

"Hi Kristin, We are back! I wanted to thank you for your wonderful service you gave us for our trip to Disney. We followed your tips and the itinerary you set for us making only a few changes and it was really a Magical vacation! The dinners you set up for us were amazing and they worked out so great. Loved the different ways of traveling to the dinners either via boat or bus. The meals were so delicious but Raglan Road stands out just a bit more than the rest. I have already recommended you very highly to my sister in law that is thinking of going to Disney. She has 2 girls as well. Again, thank you for all your assistance and being so prompt and courteous! ~All the best, Kristen"

"Dear Kristin, Our first Toy Story Ride in years! And No LINES!! Thanks so much-we had a great time at the Tink's Private Breakfast Event and seeing Mickey. We had a great trip!~Lynn"

"Thank you for planning an amazing Adventure By Disney vacation. Everything was perfect. We look forward to our next adventure.~Julie

"Thank you! Kristin is awesome & very helpful! ~ Melissa"

"Dear Kristin, Thank you so much for helping us book the Southwest Splendor trip by Adventures by Disney. Frank and I had a vacation we will never forget. We loved getting to experience the beauty of the American Southwest without having to fret about all of the trip logistics. Everything worked seamlessly! Our adventure guides were wonderful and looked after our every need. We would love to go on another Adventures by Disney trip in the not too distant future! Our experience with you truly lived up to the name "Tink's Magical Vacations." — Thanks, Peggy"


Hi Kristin
I believe in the madness of work and Disney prep I totally forgot to email you to thank you so much for the package you sent last week and most importantly for the generous gift cards!!!! We all appreciate them so much thank you for being so helpful and friendly and generous through this whole process.
Jess