Kimberly, Travel Professional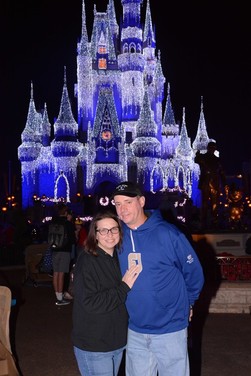 I was born into a Disney fan family. We saw all the Disney movies and my nickname was "Mouse" short for Mickey Mouse because I would write my name Mik instead of Kim. My mom's family room is still lined with every Disney movie on VHS tape and when we get together, we play Disney trivia games. Since we are all musical, we also own numerous Disney songbooks and my mom will play them on the piano while the rest of us sing. At home, I play them on my own piano.
As a child, it was my dream to visit Walt Disney World® Resort. I finally made my first trip at 16-years-old and I was hooked! Since then, I have been to Walt Disney World® Resort more times than I can count. Because I like to try something new every trip and I've been so many times, there are very few experiences at Walt Disney World® Resort that I haven't tried. I've stayed at nearly every Disney-owned resort as well as a number of hotels close by, been to numerous special events, eaten at over 80% of the restaurants, experienced all but 2 of the attractions, taken most of the tours including the VIP tour, played golf, and planned my vow renewal at the Grand Floridian Resort & Spa and Contemporary Resort through Disney Weddings. I have the added experience of visiting for a romantic trip with just my husband and me, a small group trip with infants and children, and an extended family trip with 22 people in tow. In addition, I have taken trips in which special needs such as mobility issues, food allergies, sensory issues, and autism were considered in my planning and since I have family in the military, I became familiar with the military discounts offered.
Fifteen years ago, I moved from Illinois to Phoenix, Arizona, so it became much more convenient to visit Disneyland® Resort. It's just a short drive away, so my family and I started visiting Disneyland® several times per year as well. Again, we've made so many trips to Disneyland® Resort, we've been fortunate to stay in all three Disneyland Resort hotels in both standard rooms and suites as well as a number of Good Neighbor hotels. I've gone on most of the tours, eaten in most of the restaurants, and visited at special times of year such as around the holidays, Mickey's Halloween Party, Disneyland's 60th Anniversary, and one of the 24-hour events. I've even visited Walt's apartment. In 2015 and 2017, I was also fortunate to be able to visit Disneyland® Resort while attending the D23 Expo at the Anaheim Convention Center.
Our Disney travel doesn't end with the Disney Parks, however. As a Disney Vacation Club member with ownership in two different Disney resorts, we have also traveled all over the world with Disney. We were fortunate to visit Aulani in Hawaii shortly after it opened and exchanged our points for trips around the world. I am always so excited to see the latest Adventures by Disney itineraries and dream of where we will go next. Australia? Maybe Iceland? Who knows? I do know, however, that with Disney, even the smallest details will be covered, and we will be treated to magical experiences wherever we go.
Rounding out my Disney experiences are the runDisney events. I was not a runner when I started, but I wanted to live a healthier lifestyle and was convinced that runDisney was the way to do it. I started big – with the Tower of Terror 10-miler a few years ago. Today, I have numerous 5Ks, 10Ks, and two Half Marathons under my belt with the medals to prove it. Of course, I'm also wearing a smaller belt these days as this healthier lifestyle helped me to shed 50 pounds!
Now that my son is a teenager, though, my family's favorite Disney vacations are on Disney Cruise Line. We are just one cruise away from becoming Platinum Castaway Cay members, which means we have taken 9 Disney cruises. We have been on all four ships and sailed from numerous ports including Port Canaveral, Miami, and San Diego. Our first cruise was when my son was just three years old. We fell in love with the fact that our family could do things together or my husband and I could have a romantic evening at Palo or Remy knowing our son was having a blast in Oceaneer Club, Oceaneer Lab, Edge, or Vibe. On board, you'll often find me playing bingo or Disney trivia, in the spa, or taking a trip on the Aqua Duck. There is truly something for everyone on Disney Cruise Line!
I guess I may be addicted to Disney travel and that's why I chose to become an agent with Tink's Magical Vacations. I love making that magic happen for my family and friends and I look forward to making it happen for you, too.
Contact Kimberly: Kimberly@tinksmagicalvacations.comKimberly is a vacation planner for Tink's Magical Vacations and a graduate of the College of Disney Knowledge.
---