Karen, Travel Professional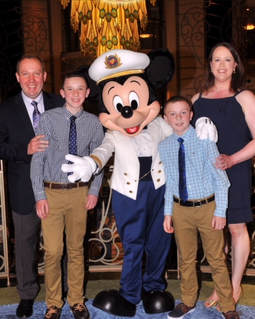 Hi! I live in Northwest CT with my husband Mike and our two boys, Justin and Mason. Disney is a very important part of our lives. The feeling of being immersed in the Disney magic is indescribable and provides me with pure joy! Even when I'm not on a Disney vacation, I still find inspiration for my daily life in many of their stories and characters.
My first visit to Walt Disney World was when I was 9 years old. I still have a vivid memory of meeting Minnie Mouse during that trip in the Japan Pavilion at Epcot. To this day, taking in the sights and sounds of Epcot's World Showcase is one of my favorite Disney activities! Mike and I honeymooned at Disney World in 2000. It was an amazing trip because Disney knows exactly how to cater to couples and families in all age groups.
When our children were 4 and 7 years old, we took them on their first Disney World vacation and since then we've visited several more times. In 2017, we cruised with Disney Cruise Line on the Disney Fantasy ship. Our cruise included a stop at Castaway Cay, Disney's private Bahamian island. The day we spent there together ranks as one of our favorite family activities ever! We are excited to be counting down the days to our next trip this summer which is a "Land and Sea" Adventure at Disney's Beach Club Resort and on the Disney Dream ship.
During one of our trips we attended the Fireworks Dessert Party at Magic Kingdom Park. There was a point in the show when my sons put their arms around each other and looked in awe at the magic all around them. I knew that I would remember that precise moment for the rest of my life. I want to help you create your own precious Disney memories of a lifetime as well!
Disney is constantly offering new experiences and opportunities for adventure. Whether this is your very first trip, or you've visited on many occasions, I am confident I will be able to work with you to make your trip unique and memorable. I truly believe any Disney Destination is the perfect vacation, but I also know that each individual and family have different interests, needs and budgets. My goal is to help you easily navigate and enjoy your planning process and ensure that you experience a vacation that exceeds all your expectations!
I look forward to helping make your Disney dreams come true!
​
Contact Karen: Karen@tinksmagicalvacations.comKaren is a vacation planner for Tink's Magical Vacations and a graduate of the College of Disney Knowledge.
---