Jessica, Travel Professional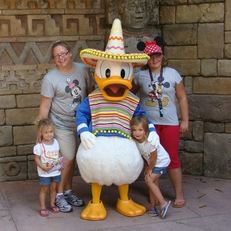 On our last Disney trip my son sat back watching me, with an amused expression. I asked him what was so funny and he told me he could see on my face how much I wanted to help people on their Disney vacations. I overheard questions about Fastpass+ and how to use dining credits and it is true, I just wanted to pipe in and help everyone. That was when I knew it was time to come back to Tink's Magical Vacations and start helping families plan their Disney destination vacations again!
With a large family I understand value. I like to help guests maximize the value in their experience, from a quick budget trip to a 7 day cruise. I truly enjoy sharing experiences and tips that help you see the magic in Disney that I see every time my family visits.
Walt Disney said "Around here, however, we don't look backwards for very long. We keep moving forward, opening up new doors and doing new things, because we're curious... and curiosity keeps leading us down new paths." and you can see this when you visit the Disney parks. Even the seasoned travelers can use help navigating the ever changing landscape of a Disney vacation and I would love to help.
Contact Jessica: Jessica@tinksmagicalvacations.com
Jessica is a vacation planner for Tink's Magical Vacations and a graduate of the College of Disney Knowledge.
---