Dana, Travel Professional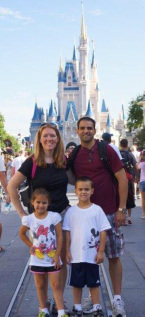 I love Mickey Mouse! I can't recall the total number of times I have been to the Walt Disney World®Resort. My parents took me a few times when I was a child; we even brought my relatives from Ireland to see Mickey. I have experienced the Walt Disney World® Resort as a child, a honeymooner, and now as a mom. Going to the park at all of the different stages of my life so far has been an eye opener. Each time I walk down Main Street I am overcome with joy and happiness. In 2013, I visited the Disneyland® Resort and attended Disney's Approach to Quality Service and earned my Disney Institute ears (literally, graduation ears). The attention to detail is incredible. I also recently visited the Disneyland® Resort to celebrate its 60th anniversary. Although I have cruised on numerous cruise lines, Disney Cruise Line reigns supreme. As soon as we walked off of our first Disney Cruise Line sailing, my children said that they wanted to go on another Disney Cruise. We were all hooked. I have vacationed on Disney Cruise Line with and without kids, and I couldn't tell you which was more fun!
One of the most amazing things about Disney is their goal to ensure that all guests have a truly amazing vacation. One thing that Disney is known for is their ability to accommodate food allergies. I have Celiac Disease and am never concerned that I might ingest gluten or wheat when I am dining at a Disney destination. The Disney chefs come out from the kitchen to spend time with me, going over all of my dining options so that I feel comfortable and can safely enjoy my meal.
In all of my experiences spanning the resorts, parks, and cruises, Disney's attention to detail with my food allergies and with my whole vacation experience has been first class in every way. I would love to help you plan your magical Disney vacation!
Contact Dana: dana@tinksmagicavacations.com
Dana is a vacation planner for Tink's Magical Vacations and a graduate of the College of Disney Knowledge.
---