Candy, Travel Professional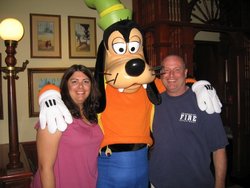 While growing up in Southern California, Disney was always a big part of my life. From living just a few miles from Walt Disney Studios in Burbank California to visiting Disneyland as an Annual Pass holder, my love for "all things Disney" was formed quickly. Some of my dearest friends were Disney cast members either working at the Disney offices or the parks.
In addition to knowing the Disneyland Resort backwards and forwards, my husband Randy and I have also vacationed in Walt Disney World. As I'm sure you will agree Walt Disney World is absolutely beautiful. The resorts are truly magical, the restaurants are amazing and of course the theme parks are unforgettable and so much fun.
We are also experienced all-around cruisers and have sailed with Disney Cruise Line many times. As Disney Cruise Line has grown so has their list of destinations. In addition to Caribbean destinations, we were fortunate enough to have spent two weeks cruising through the Panama Canal and visiting parts of Central and South America, what a memorable vacation that was doing it "Disney Style."
We raised our children to always look forward to family vacation time and that has continued as we now see our children with their families enjoying those same memories. Though a little tougher now, we still find opportunities to "Disney" vacation with the family. Making memories with the ones we love, now that is truly "living the dream."
As your Disney Travel Professional, I look forward to getting to know each of you and your families, and develop a relationship where we can share the magical Disney experience together. I promise to do everything I can to make your Disney vacation a dream come true.


Contact Candy: Candy
@tinksmagicalvacations.com
Candy is a vacation planner for Tink's Magical Vacations and a graduate of the College of Disney Knowledge.
---
Here's what Clients say about Candy...

Hi Candy,

We had such an amazing time and can never thank you enough for all you've done for our family. You have a life long friend and customer in me. AJ's birthday went off without a hitch and he had a blast. We received the surprise pops and were so touched. We truly from the bottom of our hearts can never thank you enough.

Joanna