Beth Van Beek, Chief Creative Officer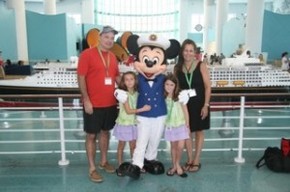 I have been interested in all things Disney related since early childhood. My paternal grandfather was an artist who worked for Walt Disney in the late 1930s, and also at different intervals in the 1940s and 1950s. He worked with other artists and animators on Snow White, Pinocchio, Bambi, Fantasia, and several other projects for Walt Disney, including helping with the plans that went into creating the
Disneyland®
Resort.
Some of my fondest childhood memories are of going to the
Disneyland®
Resort when I visited my grandparents in Southern California every summer. Those times at the
Disneyland®
Resort with my grandparents are among my favorite childhood memories. Back then, Sleeping Beauty Castle seemed so large, the Matterhorn looked so realistic, and the Pirates of the Caribbean ride seemed so scary. Decades later, my brother also kept up the Disney family tradition by serving as the Director of Media Relations at the
Disneyland®
Resort for several years.
As for me, other interests occupied my time when I got older. I earned a PhD in American History from the University of Virginia and became a tenured professor at a university in California. My husband and I relocated to the East Coast several years ago. Shortly thereafter we were blessed to welcome twin tinkerbells into our family. Our daughters were introduced to Disney at an early age as we managed to visit the
Disneyland®
Resort a couple of times during their toddler years while their Uncle was still working in Disney's corporate offices. We started going to the
Walt Disney World®
Resort when the twins were four years old. We had an amazing vacation and vowed to return with them on future vacations.
A year later we took our first
Disney Cruise Line
sailing on the Magic to the Western Caribbean over Halloween. We made wonderful friends on that cruise (and on subsequent ones) and have been completely "hooked" on Disney cruises ever since. My family has taken week-long cruises to the Western Caribbean, Eastern Caribbean, Southern Caribbean, Alaska (check out my blog in the Photo Gallery section), cruises of three, four, and five nights to the Bahamas, and a short two-day cruise to nowhere out of New York City – going past the Statue of Liberty was amazing! My family has also traveled to Barcelona and hopped on the Disney Magic for a 7 night adventure. I recently just got back from a short cruise on the Disney Wonder to Baja. My family LOVES cruising and we hope to venture on more itineraries to places we've never been to on Mickey Ships! We also try to sneak in quick trips to the
Walt Disney World®
Resort and to the
Disneyland®
Resort whenever we can.
Another fun place we have visited on two separate vacations is Disney's magical place on the sandy shore of Oahu: Aulani. Hawaii is a special place and Aulani: A Disney Resort & Spa adds to the special memories of visiting the Islands. The time, effort, and money that went into creating this magical place is amazing. As you tour Aulani, my advice is to look up, down, and all around as there are so many "hidden touches" that make this resort super special. My family loved out time there and I urge everyone to add it to their "must visit" list! And yes, Stitch, Lilo and some of our favorite Disney pals are there all outfitted in their special Island garb.
Disney's property on Hilton Head Island is another great place to vacation. My family has been there several times before Christmas and we have loved every minute of it. Disney's property is beautiful and there are so many fun things to do there. My family enjoyed birdwatching, nature hikes, and splashing around — both in the pool and in the Atlantic Ocean. The children also loved participating in several fun kids activities offered in the daily schedule. If you are looking for a fun getaway, Disney's Hilton Head Island property is a great option!
A few years ago, I started training to participate in runDisney events. At the
Disneyland®
Resort in January 2014, I ran my first ever half marathon at the Tinker Bell Half Marathon and the Tinker Bell 10K. The next month, my family traveled down to the
Walt Disney World®
Resort where I ran in the Princess Half Marathon and the Enchanted 10K (which combined is called the Glass Slipper Challenge). My family has caught the "Run with the Mouse" bug too — my husband and one of our twins participated at the Princess Weekend in the Cinderella Royal Family 5K while our other daughter ran in a Kids' Fun Run Race. The pink "Coast to Coast" medal was attained for completing a Half Marathon on both coasts in a calendar year.
Since that time I have run in several runDisney events including the Star Wars runDisney weekend out at
Disneyland
in January of 2015 (5K, 10K, and Half Marathon), the 2015 Princess Half Marathon weekend (5K and Half Marathon), and the 2015 Wine and Dine Half Marathon (nicknamed the half-half because it was shortened at the last minute due to weather issues). I also have run with my family on
Disney Cruise Line
sailings by participating in the Castaway Cay 5K. In January 2016, I participated in "the Goofy Challenge" which includes running the Walt Disney World Half Marathon and then the Walt Disney World Marathon the next day. That weekend was a bucket list moment for me. Afterwards, I hopped on the Disney Dream and finished the amazing runDisney Walt Disney Marathon events with the Castaway Challenge race when we docked at Castaway Cay.
My family always has several runDisney events scheduled in the not too distant future. It goes to show that being on a Disney vacation can include healthy exercise in the midst of all the other fun. By the way, the bling of the runDisney medals is super cool and makes for great vacation souvenirs!
I am a graduate of the College of Disney Knowledge and will enjoy helping your family plan your Disney vacation from start to finish with sprinkles of magical pixie dust!
Contact Beth:
beth@tinksmagicalvacations.com
Beth is the Chief Creative Officer for Tink's Magical Vacations. She also is a Cruise Industry Travel Agent (CLIA), member of IATAN (International Association of Travel Agents Network) and a graduate of the College of Disney Knowledge
. She also has her PhD in Early American History and loves to chat about history while she plans your Disney Destination vacation!
---
Here's what Clients say about Beth...

"If you haven't already hooked up with our FCMOM member Elizabeth Van Beek who plans disney adventures for people, you should before your trip. We are in Disney now and her help has been invaluable! She helped me workout all the details for my family of 14 traveling to Disney and all their different needs. She also has great advice because she has done disney with her twins at many ages. — Jennifer from Fairfax, Virginia"



"Hi Beth, Thank you so much for doing such a great job arranging our first Disney cruise as a family. We thought the Disney Dream was a beautiful ship and all the crew members were so nice to us throughout our time in the Bahamas. Our verandah room was perfect and we were so pleased to end up being next door to our friends on Deck Seven. It was so nice that both couples could sit out on our verandahs and enjoying some adult conversation while our children were out having their own fun in the Kids Clubs. By the way, everyone loved the pools and especially the Aqua Duck, which we could have ridden all day long! Your advice and tips about how to pack, port transfers, where to stay the night before in Port Canaveral, port excursions, and what to do after our cruise before our evening flight home were great! We rebooked on board and are already looking at the home calendar to see if we can possibly fit in another cruise next year. Thanks again for making our cruise vacation truly magical. — Thanks again, Leslie and Brian"


"Beth: Got here okay — Disney was at baggage claim, private car to hotel. Conrad Miami is top notch hotel overlooking Key Biscayne Bay. Marine life to see in the waters. Staff is great and they gave me access to high end Hilton Honors wine and cheese event. Greeted by another Disney employee at hotel with details for pick-up tomorrow. I could really get spoiled by this treatment! Thank you for arranging my repositioning cruise! — Dorsee"