Amy, Travel Professional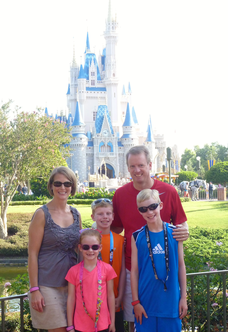 My first trip to the
Walt Disney World®
Resort was when I was a senior in high school. Since then I have been more times than I can count, but with each trip I find even more to love about Disney. I have three children who share my passion for Disney. My husband laughs at us when we start planning our next Disney vacation before we are even home, but he has grown to love Disney too! My family has been fortunate to travel to the
Walt Disney World®
Resort at least once per year and sometimes multiple times. We have stayed at many different resorts, dined in numerous restaurants and always find something new to do each visit. I have experienced the
Walt Disney World®
Resort in many different ways; as a family, with just my husband, solo, and I have even done mother-daughter and mother-son trips.
It is just so difficult to describe the magic that a Disney vacation brings. I still get that feeling of sheer excitement at the first glimpse of Cinderella's castle each time I visit the
Walt Disney World®
Resort. My family has had several magical moments at the
Walt Disney World®
Resort. but what we love most about a Disney vacation is that there is something for everyone. Whether it is riding a favorite attraction, relaxing at the resort pool, enjoying a nice meal or seeing our pal Mickey for a picture, we are all happy!
In addition to Walt Disney World, I have had the opportunity to sail on the Disney Dream and the Disney Magic. All I can can say, if you are looking for a truly relaxing family vacation you must consider a Disney Cruise! The level of customer service is beyond amazing and you will never want to get off the ship.
I have had the opportunity to attend a travel agent education program at the Disneyland® Resort and it exceeded my expectations. If you consider yourself a Disney fan or are fascinated with the history of Walt Disney, a trip to the Disneyland® Resort is a must!
My passion for Disney is apparent with each vacation I plan. I will help educate you in your decisions about your vacation and in turn, help you buy wisely. My expertise allows you to relax, enjoying the anticipation of your vacation without worrying about the details.
I look forward to helping you create your own magical family vacation memories!
Contact Amy:
amy@tinksmagicalvacations.com
Amy is a vacation planner for Tink's Magical Vacations and a graduate of the College of Disney Knowledge.
---
Here's what Clients say about Amy...

"Hi Amy, I really can't begin to explain how truly magical our vacation was. I also can't thank you enough for all of your words of advice, attention to detail, and just exceptional care that you gave to us…. Thank you doesn't seem like enough but thank you so much! We will definitely be calling you to plan our next trip! Thanks again! Happy Holidays! — Alison"

"Amy ~ We just got back today from our first Disney vacation and wanted to thank you for helping us plan a very memorable trip. Everything was flawless and we were very happy how easy and organized everything was. We all had a wonderful time! Thank you very much for everything, especially helping us change the dates. ~Jenn"