Meghan, Travel Professional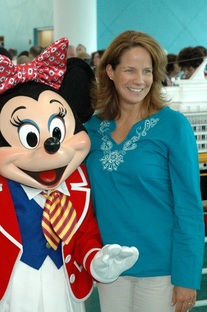 Not only do I love all things Disney – but I love to PLAN Disney Destination vacations!! From my daughter's first
Walt Disney World® Resort
visit when she was one to our kids Christmas morning surprise trip to Disney's Hollywood Studios this past December, every trip and cruise has brought me joy to plan AND to experience!
I am fortunate to say that my family and I have visited BOTH the
Walt Disney World® Resort
in Florida and the
Disneyland® Resort
in California. We have also sailed on
Disney Cruise Line
several times on the Disney Magic, the Disney Wonder and was able to sail on the Inaugural Disney Dream cruise in January 2011! Due to my love of photography and scrapbooking, I have documented all the wonderful memories from each and every one of these amazing Disney vacations, allowing me to remember and share all the great moments that are to be had by you and your family!
Each time I travel I learn something new – and I can't wait to share what I know to help you make your next vacation as special as mine have been! Whether you want a partner in planning or want someone to handle it all for you, I can help you plan your next Disney Vacation!
Contact Meghan: meghan@tinksmagicalvacations.com Or chat with her NOWMeghan is a vacation planner for Tink's Magical Vacations and a graduate of the College of Disney Knowledge.
---
Here's what clients say about Meghan...

I was apprehensive about planning a vacation to Disney. I'd heard about all the research and preparation involved and was not looking forward to the process. A good friend referred me to Meghan Umlauf and she was a life saver. She was quick to respond to my calls and emails. She gave excellent advice and really understood what kind of vacation we were looking for. Meghan took all the stress and worry out of planning the trip. We had an awesome vacation that was well planned and organized. I couldn't have done it on my own. Thanks Meghan!

---

Meghan at Tink's Magical Vacation helped me conquer Disney! Looking at Disney vacations had always left me feeling overwhelmed until I got a little (well, a lot) of help from Tink's. Meghan found me the best pricing, answered a million questions, booked reservations and fast passes, and gave me endless tips on the parks. Our family had a great first trip to Disney and definitely know who to call when it's time to go back! Carol Svirsky on Google reviews

---

Thank you so much for helping us plan a fun-filled trip to Disney World. We could not have done it without your expertise, responsiveness and excellent customer service. I have to say, I don't think there are many people who stick with you from start to finish to ensure you have an awesome experience - and you did! We had a lovely time and I'm already spreading the word to others about your service. Again, Thank you very much. Your hard work and dedication are greatly appreciated! Andrea Savastra

---

This moment brought to you by Minnie Mouse and Meghan Umlauf!! Thank you Meghan for all your assistance in planning this amazing trip!!


Hayley Fetrow on FaceBook

---

---

The best part of our cruise was where Meghan placed our room! It was so central and right next to the kids club, made life so easy!
​We loved Castaway Cay - the fresh fruit stand was my personal favorite and the live shows (were) phenomenal! Thanks for helping us plan!
Love, The Hovans

---

Meghan Umlauf, did a fantastic job in planning our vacation. She always answered my questions immediately & was always available. She met all our expectations for a memorable vacation. She went above & beyond. I will definitely recommend Meghan & Tink's to everyone . Patricia