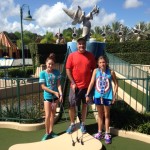 Written by Skye (age 12)

When I was at Walt Disney World® a couple of weeks ago, my family decided to go to Fantasia Gardens to play miniature golf. It is open from 10am until 11pm daily. There are two options: The Gardens Course and the Fairways Course. We decided to play on the Gardens Course because it was our first time and it was a lot easier. The Fairways Course seemed to be for more experienced golfers.

We arrived at Fantasia Gardens and waited a few minutes for it to open. The first thing we had to do was pick the color of our golf ball. I picked pink but then I lost it in the bushes so I had to go back to the start and get a replacement. Apparently this happens a lot! I have a tip for everyone: make sure to wear sunscreen as it can get hot and there isn't a lot of shade.

The course has eighteen holes. Each one is named after a scene in Fantasia. There are all sorts of interesting holes where you need to figure out how to hit the ball to make it go into the weird placement on the course. A couple of times my dad and mom got holes in one. Not me — I got one of the highest scores possible — but it was fun!

This was a really awesome way to spend an hour or so in the at Walt Disney World®. We had to leave that afternoon for home (boo hoo), so we managed to do something different and fun before our departure. Fantasia Gardens is located over by the EPCOT resorts. We decided to take a taxi from our resort (Saratoga Springs) over to the course. We could have taken a bus over to EPCOT, but that seemed too hard. A taxi didn't cost that much and we got over there without a hitch. Afterwards, we walked over to the Boardwalk and shopped a bit before we met our Guilly girlfriends for lunch. We had an amazing morning and it was a great way to end our vacation at Walt Disney World.

Thumbs up from me about going to Fantasia Gardens. Kids, talk your parents into taking you there! Tell them Skye sent you!