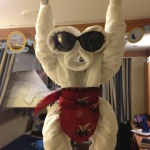 Written by Hope (age 11). When I go sailing with Captain Mickey Mouse on a Disney Cruise, one of the features that I really enjoy about my vacation are the towel animals that the stateroom host makes for my family.The towel animals come in different sizes, and many times they are accessorized with stuff that is already in our room — like my mom's sunglasses on a hanging monkey. I have seen snakes, elephants, an octopus, and all sorts of other amazing things made with towels. A lot of times there are little chocolates waiting for me on the towel animals too.

I always discover the towel animals when my family comes back from our dinner. After we get off the elevator with our full tummies, my sister and I walk fast (okay, we sometimes run when our parents aren't looking) down the hallway to see what new towel animal is waiting for us when we walk into our stateroom.

I hope other kids enjoy towel animals on their cruise as much as I do!