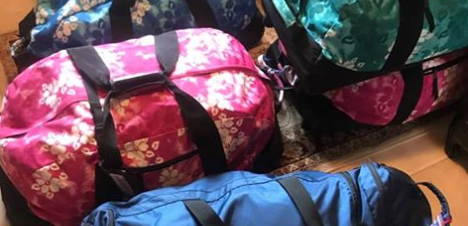 Tink's is headed to Rome, Italy on an Adventures by Disney® vacation. The bags are packed and the Guillemette Family is headed to the airport for an amazing adventure! Follow along over the next several days as they explore Italy! The limo has pulled up and they are headed to the airport! #tinkstakesonitaly #adventuresbydisney #wearelovingitalywiththeguillys

Here is Kristin's Blog on Departure Day from New York City!:
​
Our family's Adventures by Disney® trip started a day before the actual Adventure began. I highly recommend that you start your adventure a day before -- especially if you are traveling from abroad. This "extra" day will give you the time to get acclimated to the time change (six hours ahead of time for us) as well as your surroundings. A pre-night or post-night is not included in your adventure cost. However, your Tink's Agent can arrange your pre- or post-night stay at the same hotel as your Adventure.

My family flew out of New York with a direct flight to Rome, which is where our adventure began. Our flight was delayed by 23 minutes. We flew over night and arrive in Rome at 10:43am local time. We had decided to upgrade our seats from Business Class on Delta to Comfort Plus -- it was well worth the extra $119 per ticket as we got an extra 4 inches of leg room as well as dinner and lunch, and free beer, wine, cocktails, toothbrush, toothpaste, eye mask, blanket, pillow and unlimited movies. We did our best to sleep on the plane!

​Once we arrived in Rome, we were expedited quickly through Customs and baggage claim, where we were greeted by a local Italian woman (who held up an Adventures by Disney® sign and collected our bags and walked us to a driver. Stay tuned!