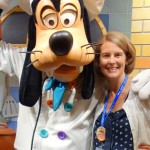 Written by Tink's Vacation Planner, Amy.

Do you consider yourself a Disney fan? Have you ever wondered about that Disney park out there on the west coast? Are you fascinated with the history of Walt Disney? If you have answered yes to any or all of these questions keep reading and learn why you should consider a trip to Disneyland® in California.


1. Disneyland® was the only park that Walt Disney was ever able to see completed. While he was involved with the plans for Walt Disney World®, he passed away before the park opened in 1971.

2. Disneyland® Park is celebrating its 60th Diamond Anniversary and for this special occasion they have added a new fireworks show called "Disneyland Forever" and new nighttime parade, "Paint the Night" which are both incredible!
3. If you stay in one of the Disneyland® Park resort hotels you can walk from your resort to Disneyland® Park, Disney California Adventure® and Downtown Disney® (and if you stay at Disney's Grand Californian Resort the park is actually within Disney California Adventure® and you can enter the park directly from the hotel). There is no need to have a car or rely on bus transportation. Everything is very close together. There is a monorail that runs between and Downtown Disney® and Disneyland® Park for those who still love the thrill of riding the monorail but not necessary to use.

4. Both Disneyland® Park and Disney California Adventure® are in close proximity to each other which means it is very easy to visit both parks within the same day and take advantage of park hopper tickets.

5. There are over 70 attractions between Disneyland® Park and Disney California Adventure® versus around 50 attractions when combining all four parks at Walt Disney World.

6. Radiator Springs, California Screamin', Matterhorn, Indiana Jones Adventure and World of Color….no need to say more! Plus, I think both "It's a Small World" and "Pirates of the Caribbean" are better in Disneyland Park.

7. It is not uncommon to see characters out for meet and greets at the Disneyland® Park resorts or even out for a stroll within the parks.

8. The weather is fairly consistent and pleasant year round in Disneyland®.

9. You do not need to plan as much in advance for a trip to Disneyland® as they still use the old paper FastPass system and dining reservations can't be made until 60 days prior to your arrival.

10. Disneyland® is a great stopping point on your way to or home from a vacation to Aulani, A Disney Resort and Spa in Hawaii.

My recent trip to Disneyland exceeded my expectations. I was surprised at how easy it was to get around and truly felt Walt's presence. If you love Disney, a trip to Disneyland is a must.