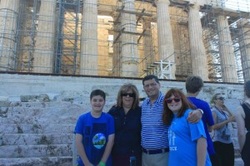 Written by Tink's Vacation Planner, Mindy.

If anyone would have told me six years ago that in the span of five years I would have gone to Europe with Disney Cruise Line® three separate times, I would have said they were off their rocker. How, on earth, could I afford it once, let alone three times? The second doubt I expressed before we first went was that my kids would surely be too young to appreciate all that Europe had to offer! I cast those doubts aside and we've now gone THREE times — and I wouldn't change a thing. I have learned a lot, experienced a lot and would like to share my experiences with whomever reads this.

My first time was in August 2010. Our first cruise to Europe was booked while we were onboard our first Disney Cruise to the Western Caribbean. My kids were seven years old, it was 2008 and we booked Europe for August 2010. (Tip 1 – if you can book a placeholder on board, do so. You will save 10% on the cruise fare and get a $100-$200 on board credit depending on the length of your cruise). I even kept this cruise a surprise from my kids until we were in the airport leaving for Barcelona. This cruise was the typical Mediterranean cruise for 10 nights with stops in Villefranche, Corsica, Livorno, Civitavecchia, Malta and Naples.
Our second cruise to Europe was in June 2013. This was a 12 day adventure, revisiting Villefranche, Livorno, Civitavecchia, Malta but with the addition of Turkey and Greece (Athens and Mykonos).

Our third cruise to Europe was something completely different. A northern European cruise in July 2015 departing from Dover, England with stops at Copenhagen, Stockholm, Helsinki, St Petersburg and Tallin.
So to answer some of my questions I posed earlier, how could I afford this? Save, save, save. I did all of them as on board booking so I saved 10% (to be honest except for the first one which was concierge (they don't discount those)). I then made sure I put away a certain amount of money every month so that I could pay for the cruise and then there's the old Disney Visa with 6 months interest free that helped as well. Prior to the cruises we paid everything on Disney Visa so that we accumulated points to offset our onboard bill, so that helped.

Did my kids appreciate it? I'm not so sure appreciate is the correct word, but they learned about stuff despite themselves. When they came back and took world history in school, they were some of the few that could speak from their experiences in those different countries.
So you're probably saying, ok, enough about your trips, where are the learnings? The takeaways? Stuff I should do to make sure I get the maximum experience for my adventure? I'm getting there. I think making a list is the easiest method to go through them, so here goes:

1. Follow what I just wrote above about booking a placeholder while you are onboard. And then Save, Save Save! Get a Disney Visa too!

2. Join a Facebook group before cruising to meet others going on the cruise with you. Odds are there will be other experienced cruisers in there with good advice and tips to make your cruise more enjoyable. My 2013 cruise Facebook group still exists as a secret group because we just gelled. We are all still friends. Groups of us have sailed together again and it was just a great group.

3. Don't feel obligated to join the Fish Extender Groups (FE). If you don't know what FE's are they are little pocketed holders you hang from the mail slot (which happens to be a fish) outside your door. People create groups to share different gifts throughout the cruise with others in the group on all different nights. The reason I said don't feel obligated is that there is just so much luggage space that you have going back and forth to Europe and most of us max that out on clothes and shoes. Sometimes the FE gifts can take up extra pounds coming and going in your luggage that aren't worth it.

4. That leads to my next tip – bring a luggage scale. Very handy to have, not all that expensive and will save you from repacking cases in the airport.

5. Bring dry powder detergent or sheets. Let's face it, it's getting expensive to fly with luggage, minimize the amount you need by doing laundry. I have to admit, my husband does all the laundry while we are on the ship. He finds that around 10/11 at night is quiet and he gets it done quickly. Or if you're an early riser and have time that would work as well.

6. Bring a magnetic board with a marker to put on your door. Great for people leaving messages. That's usually how I know the general vicinity of my children.

7. Get to know the cast members. I can't tell you how magical they make the cruise. You just need to experience it. Try to form relationships with them though. It's great when you board the ship and you see a friendly face that remembers you.

8. Don't sweat the small stuff. Things don't always happen perfectly or how you envision them to happen. Just roll with the punches and take things as they come.

9. Try to understand the currency rates in each country you go to. I usually get some currency for the first country I'm going to and then get additional cash from the ATM's in country (make sure you know what network your bank is part of globally). I have found that's where you get the best translation rates. Better yet, anything you can use a credit card for, do it. However, make sure in advance to get a credit card that does not charge translation fees. There are a bunch out there.

10. For any credit card you plan on using oversees, be sure to alert your credit card company that you will be away and where you are going so that you don't get denied charges.

11. Don't expect everyone to speak English. I know as Americans we are used to many not being able to speak English in our own country, but when you are a foreign country, be patient. Realize that English is not necessarily their first language.

12. Be respectful of local customs and traditions. In St. Peter's Basilica, women need to have their shoulders and knees covered. It's respectful in most churches overseas to not visit in Daisy Dukes and tank tops.

Most of all, have fun, enjoy time with your family and absorb the beautiful memories that you're making together!