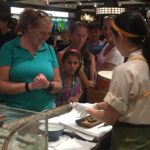 Written by Tink's Vacation Planner, Margie.

The last time we visited the Walt Disney World® Resort in Florida, we had so much fun at the Pick-A-Pearl station in Japan at EPCOT. I have watched people doing this for several years but had never tried it. This year, I decided to do it with my guest and we had a great time!

We both were very fortunate with the oysters that we selected. My friend picked an oyster with a large silver blue pearl, which is only found about 5% of the time. Much to my amazement, I picked an oyster that had twin pearls! We both were so surprised that we got so lucky. It cost just $17 to pick a pearl.

Settings can be purchased there, and it only takes about an hour to get it set. My pearls are a beautiful keepsake to remember this special trip that was all about celebrating graduations. The next time I return to the Walt Disney World® Resort, I will definitely be doing it again to add to my collection.

There are a few other locations to pick-a-pearl while you are at the Walt Disney World® Resort. Other locations include kiosks at Typhoon Lagoon, near the Pin Traders outpost at Disney Springs, and just outside Stormalong Bay pool area shared by the Beach and Yacht Club resorts. Of all the locations where you can Pick-A-Pearl, I think that doing it inside the Mitsukoshi store at the Japan Pavilion at Epcot is the most fun.