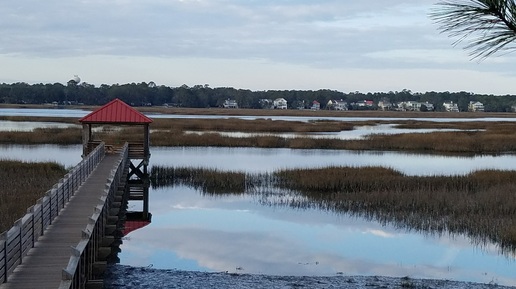 Written by Tink's Chief of Creative, Beth.

Located just five hours from Walt Disney World in beautiful coastal South Carolina, Disney's Hilton Head Island Resort is a magical place. The Resort is themed after a 1940s fishing and hunting lodge, but it is way more than that. Multi-roomed villas hug a picturesque marsh, with amazing beaches a mile away. My family stayed in a two bedroom villa that had two full bathrooms, a kitchen, washer and dryer, and a balcony that looked right out over the marsh. We were happy campers when we walked into our villa.

My family experienced Disney's Hilton Head Island right before Christmas. Our newly turned teenage twins were in their element and so were their parents! When we headed over to the Beach House (shuttle, driving, cycling or even walking are all good options), our girls played volleyball in the Beach House Pool, before we all walked down the stairs and wriggled our toes in the warm sand as we collected shells on the beach.

Disney's Youth Counselors offer all sorts of great programming for kids and teens. My twins made snow globes, blankets, Christmas wreaths and Mickey Tie Dye shirts during our stay. As a family, we joined others around the campfire and sang, told stories, and then burned our marshmallows that we were making into s'mores. During the afternoons, we signed up for nature hikes and even kayaked through the marshy waters that abut the property. To top it off, the night before our departure, my husband, Steve, and I took a shuttle over to the Beach House and enjoyed a fabulous adult-only wine tasting with Chef Gordon, who shared wonderful stories with us as we tasted wine from around the world.

My family LOVED our short stay at Disney's Hilton Head island Resort. We will definitely be going back to this magical paradise. You don't have to be a Disney Vacation Club Member to book a stay at Disney's Hilton Head Island. Contact your Tink's Vacation Planner for more information!