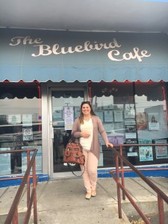 Written by Tink's Vacation Planner, Abby.

Hey everyone! My name is Abby. I'm an agent at Tink's Magical Vacations and I recently was offered the opportunity to attend an Adventures by Disney® One Day Immersion Program in Nashville, TN. I live close to Nashville so I jumped at the chance to experience an Adventures by Disney® event! I didn't know much about Adventures by Disney® when I started at Tink's but I learned so much that day. The most important thing that keeps people coming back to Adventures by Disney® over and over again is the incredible experiences and magical moments that are only attainable through Disney.

We started our day at the famous Bluebird Café. For those of you who aren't familiar with Nashville and country music, this is a little hole-in-the-wall café that was the start for many famous country stars, including Garth Brooks and Taylor Swift! In true Disney fashion, we had the café to ourselves and got a private concert of two singer/songwriters along with a catered lunch.

After our private concert, we took a motor coach to our next stop, The Grand Ole Opry! We got to enter through the Artist Entrance (which is typically for artists only!) and got a private backstage tour, including getting to walk across the famous stage.

We saw the dressing rooms where famous country music stars got ready to perform and learned about the history of the building. We then took a tour of RCA Studio B, where Elvis recorded the majority of his music. We even got to record ourselves singing one of his songs in the studio. It was such a neat experience!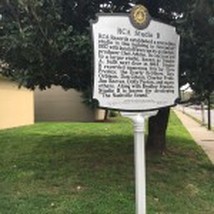 The last stop of the day was a private tour of The Hermitage, which is where Andrew Jackson lived. After a tour of his home, we went to one of the buildings in the back that is now often used for weddings, and had a delicious catered meal and got to learn to make homemade biscuits. The biscuit making was my favorite part! They were so delicious. There was also live music to enjoy while we were eating dinner.

All in all, the whole day was centered on excellent service and once-in-a-lifetime experiences that are only an option for Disney! Our two Adventure Guides, which you get with every Adventures by Disney® trip, were so fun and were an absolute wealth of knowledge about Nashville. With trips that include children, they take a large role in planning special events just for them that will make their trip just as memorable as the adults! This trip was such an incredible experience and I learned so much; I really cannot wait to get to travel again with Adventures by Disney®