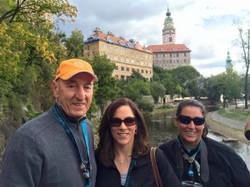 Written by Tink's Vacation Planner, Jen.

Traveling with family has always been an experience I've treasured throughout my life. One of my favorites has always been a biannual father/daughter trip my sister and I started doing with my Dad about 12 years ago. As the designated trip organizer, I've tried to choose destinations that appeal to all of us addressing our varying interests including history, art, food, and of course shopping! In the past decade, we traveled throughout England, France, and Italy. It was our most recent trip through central Europe however, that provided us with activities that I would have never thought of on my own thanks to Adventures by Disney® .

For several years, I had dreamed of joining an Adventures by Disney® tour. So many features appealed to me – the concierge service by the two Adventure Guides on each trip, the amazing accommodations in each city, the all-inclusive style of touring including meals, transportation in and around the destinations each day as well as all of the VIP tours at each of the daily sites. In choosing our destination though, it really came down to the date on which we were all available. Since we weren't traveling with children, we decided that the adult-only tour was the way to go for us (usually offered at the beginning and end of each season for each location). So off we were to plan our adventure to central Europe – more specifically, the Czech Republic, Germany, and Austria.
| | |
| --- | --- |
| We arrived in our departure city of Prague two days early on a Wednesday morning to adjust to the time change as well as to spend more time getting to know Prague more intimately. Prague is a city with a tremendous amount of history to it. It's an extremely easy city to navigate by walking and using the public transportation system of buses and subways. Most of the people there speak English so there was no language barrier much of the time. Prague, the capital city of the Czech Republic, is known for many things. Many composers spent lots of time there – Dvorak, Mozart, Beethoven, and Smetana. Concerts are offered throughout the city in addition to many street musicians performing their music as well. It has one of the best preserved old towns in all of Europe – virtually untouched during World War II. | |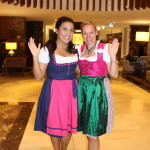 After two days of exploring, we finally met up with our group of 26 other adults at the Prague Marriott hotel – the starting point of our adventure. After meeting our adventure guides Stephanie and Natalia, we all introduced ourselves before heading out to our first dinner.The enthusiasm and excitement was at an all-time high knowing we were all embarking on something special! After dinner we headed back to the hotel and turned in early because from this point forward our days would start out by 8 am and not finish until 8 pm each evening.
| | |
| --- | --- |
| We only had one day to tour Prague with the group (one of the reasons we had decided to arrive early). In addition to the local sightseeing, we spent some time at the National Marionette Theater and learned about the art of puppetry performances. It was here that we made own marionettes that we were able to take home at the end of the trip! | |
The next morning we were off to Czesky Krumlov! This amazing old bohemian city was settled in the early 1200's. It's amazing castle towers over the beautiful town filled with cobblestone streets and colorful buildings that house vibrant flower filled window boxes. It was as if we were walking through a Christmas village complete with its own gingerbread store! Our adventure guides provided us with advice on shopping, dining, and any other interests we wanted to pursue. They always made us feel important and were always willing to go the extra mile to assist us. While it may seem minor, my Dad had asked if they knew where he could find an English newspaper (the New York Times) and before we knew it, they had secured one and hand delivered it to our room. These little acts of kindness really showed me why this company is one of the best in the industry! After a few hours, we boarded the bus to move on to our next hotel in Berchtesgaden, Germany, about three hours away.

Berchtesgaden is a small historic picturesque town located in the southeastern section of the German state of Bavaria (in the German Alps). It's located on the border of Austria. We checked into the Edelweiss Hotel, a new addition to the hotels commonly used for the Adventures by Disney® tour group. Dinner was on our own the first night, though many of us wound up together as we had already bonded as a group.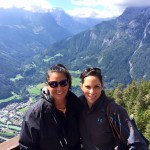 After breakfast the next morning, we headed out for an amazing hike in the Alps up to the only ice cave in all of Germany. With no natural light, our only way to see was to carry gas lamps. We were led by a private guide along the 1700 steps traveling up and down gazing upon the spectacular ice formations molded much like stalagmites and stalactites found in limestone caves. Words cannot describe the remarkable scenery we witnessed as we traversed up and down the mountain by foot. Our lunch break brought us to a restaurant halfway up (or in our case down) the mountain that was also accessible by cable car (sort of like a gondola on a ski slope but steeper). We dined on traditional Austrian/German food as we relished the view of the mountains where the Sound of Music was filmed during the early 1960's. From lunch, we then headed to Hohenwerfen Castle for a tour and falconry show. This medieval castle is over 900 years old! The art of falconry is the ancient sport of hunting using birds of prey. We saw majestic bald eagles, hawks, and falcons perform high above us during the scheduled show. An experience I'll never forget!
Our next day brought us to Salzburg – home of Mozart. Horse drawn carriages, chocolate shops, and Christmas stores surrounded us as we meandered through the city filled with medieval and baroque architecture. Our tour also brought us to the popular locations featured in the Sound of Music – the gazebo where Rolf and Liesl danced, the terrace overlooking the river where Maria and the children fell in water, the fountain where Do Re Mi was sung by the children as they ran around the circular edge. Our guide was a relative of the Von Trapp family – we were mesmerized by his stories and little known facts about the real Von Trapp family. Dinner was amazing that night – we were treated to a private cello concert featuring music by Mozart during the meal.

In the morning, we moved onto our final destination – Vienna. We checked into the opulent Ritz Carlton hotel just down the street from St. Stephens cathedral. In Vienna, we were treated to tours of the stables of the famous Spanish Riding School which houses their regal white Lipizzan horses. We toured the massive Schonbrunn Palace built throughout multiple centuries. We had the unique opportunity of visiting the oldest zoo in the world after hours as well as enjoying a private dinner inside the conservatory at the center of the zoo.

Our trip now was coming to an end. At our farewell dinner, we all had an opportunity to reflect and speak about our favorite moments of the trip. It is impossible to detail all of the wonderful moments, interactions, and experiences that were made possible by our adventure guides and Adventures by Disney®. It was truly an amazing experience I was lucky enough to take advantage of and look forward to my next trip with Adventures by Disney® !