Written by the Finn Family!

Have you ever seen a television commercial for a travel destination and think, wow…that is beautiful or how you sure would love to see that place in person? How we booked our Adventure by Disney® trip to Alaska began that way. Our family knew we wanted to see as much as the grand state as possible without being on a cruise. So we researched Adventures by Disney® Alaska. The trip took us into the heart of the state where we saw snowcapped mountains, animals in their natural habitat, and nature at its best hiking in Denali National Park.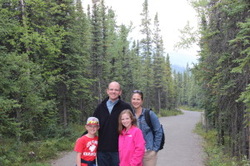 We were a little apprehensive to do a "group tour" hearing stereotypical comments such as you don't have alone time and every minute of your day is planned out for you. Having a guided tour took the stress off of us driving, navigating, booking hotels, and making dinner reservations. Our family was able to sit back and truly relax on vacation.

If it is an active vacation you are looking for, then Adventures by Disney® is for you. My family can't sit on the beach for longer than 2 hours without being bored. We like to keep moving to see as much as the destination we are visiting as possible. Visiting Alaska lived up to that expectation. We went biking riding in Anchorage along the coastal trail. We took a jet boat on a glacier fed river into the Alaskan wilderness in Talkeetna. We went whitewater rafting and hiked Denali National Park. We visited a working kennel of an Iditarod winner, played with the puppies and learned more about the details of an Iditarod race. We rode a train through the gorgeous scenery of Alaska to the quaint town of Seward. Even though the days seemed jammed packed on paper, the excursions were very well timed out and planned.

The hotels we stayed at were state of the art. The bus we traveled in to and from destinations was comfortable and spacious. The guides played movies for the children to watch on the bus trips and also had trivia games with a Disney theme to help the adults pass time too. The meals that were planned for us were authentic to Alaska, but offered kid meal options as well. It was nice to try foods the locals eat daily like bison. We had plenty of time to explore on our own at the different destinations spots. There were plenty of times my family ate alone, shopped in town for mementos alone, and hiked alone. When we arrived in every town we traveled to, we were treated with A+ service by the excursion guide. Behind the scenes tours not given to regular entrance passes was a given everywhere we went.

Adventures by Disney® showed us all the towns a typical outsider would want to see in Alaska. We had a good balance of solo family excursions and group tours. The guides geared the trip to all ages from young to old. Our trip to Alaska was a once in a lifetime trip for us. We plan on taking another Adventure by Disney® vacation once my family can agree on the next destination spot!