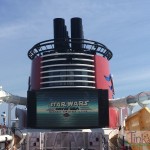 Written by Tink's Vacation Planner, Sheri.

I was fortunate enough to sail on the first sailing of Star Wars Day at Sea. We are big Star Wars fans and this cruise was perfect for us. We boarded on Saturday January 9, 2016. Everywhere you turned you saw guests in Star Wars clothing, and this was just Day 1! The crew wouldn't give any hints as to what our special day at sea would hold, we had to wait until Wednesday.


Special merchandise was created for the Star Wars Day at Sea Cruises. Limited Edition Pins, t-shirts, sweatshirts, mugs. We waited in a long line that never seemed to grow shorter for our turn to enter Sea Treasures for our turn to shop. Luckily, they continued to stock merchandise during the cruise so it seemed there was enough for everyone to choose from. I recommend heading straight to the shops when they open the first day to check on receiving a band that will allow you to have first choice of pins to purchase.

A Form was left on our bed to fill out and rank from 1 to 3 our choices of photo opportunities. Our choices were Tatooine (Transient Droids or a Sith Lord on Tatooine), Dark Side (Villain of the Dark Side or Captain of the First Order on an Imperial Base), or Bespin (Encounter a Bounty Hunter or a Trusty Sidekick on Bespin). We made our choices, deposited our slip in the box at Guest Services and crossed our fingers.

The days leading up to SWD@S (Star Wars Day at Sea) were filled with Cast Members telling us exciting things were in store for us. The first installments of the Star Wars Saga were played in the movie theatre, guests were sporting Star Wars t-shirts, the excitement was building.

Finally SWD@S arrived. It was a Star Wars cosplayers haven. The entire day was devoted to Star Wars. The Force Awakens played in the Walt Disney Theatre and the Buena Vista Theatre. On Decks 3, 4 and 5 Star Wars Characters roamed. Guests dressed up as their favorite characters. There was a Costume Party for guests. My daughters were "attacked" by Tusken Raiders on Deck 4. StormTroopers had patrols scheduled for Deck 11 to look for Rebel Sympathizers. We saw Jawas on Decks 3 and 4 looking for trades, Bounty Hunters sculking around and Imperial Guards among others. Jedi Training was held in the Walt Disney Theatre at five different times. Our Room Hostess left a special window cling on our mirror.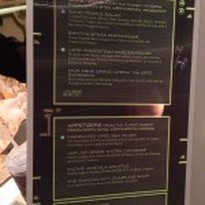 At Dinner there was a special menu, which is now my FAVORITE menu. The kids were given the choice between a Chewbacca face or a Storm Trooper face menu. The food was delicious. After we ordered dessert we were given a pamphlet entitled Star WArs Voyage Through The Galaxy; Location & Character Glossary. It touched upon some of the characters and told where they were from. Everyone left dinner full and happy.

The night ended with a special deck party; Star Wars Summon the Force Deck Party. I've never seen so many people on deck before. Our servers at dinner told us to get there early, for the Pirate Party that translates to 30 minutes, boy were we wrong. The deck was wall to wall people; kids dancing and having light saber battles. The anticipation was building. The show started with a video showing different clips of the movies and then characters would enter the stage. The show ended with a spectacular fireworks display set to classic Star Wars music.

Our Star Wars Day at Sea ended with a visit to the Star Wars Buffet at Cabanas. WOW! The crepes were delicious. There was so much food and different desserts it was hard to take it all in. Interspersed amongst all the food were Star Wars decorations and carvings.