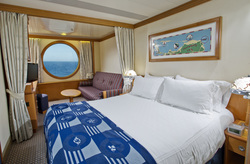 Your stateroom is your home away from home on yourDisney Cruise Line vacation. It has some amazing features contained within its walls. Many of the features on the Dream and the Fantasy also apply to the classic ships, the Magic and the Wonder. This helps you to understand some of these features, plus provides some fun tips to help you plan and pack for your cruise!
How to Use the Stateroom Telephone
Here is a key list of phone numbers for your stateroom telephone:
Ship's Operator: Dial 0
Fire/Emergency: Dial 7-3001
Medical Assistance: Dial 7-3000
Calling Another Stateroom: Dial 7 + Stateroom Number
Directory Assistance: Dial 8 + 1 + Area code + 555-1212
Long Distance Call: (North America) Dial (direct) 8 + 1 + area code + number
International Calls: Dial (direct) 8 + 011 = country code + city code + number
Note: No toll free (1-800, 1-888) or collect calls can be placed from the ship.
Room Service: For Room Service, touch 0 on your phone, listen to the voice prompts, and then press 1 to be connected to an attendant. *Caution: this feature can add inches to your waistline!
Wake-Up Calls: To set up a wake-up call, dial 32 on your telephone, and follow the voice prompts. The Guest Entered Wake-Up System will allow you to enter, change, or cancel wake up calls by going through a series of voice automated instructions. This is a key feature to ensure you don't sleep through your port excursions!
Get to Know Your Wave Phone! The Ins and Outs
There will be two portable wave phones in each stateroom. These phones will help you to stay in touch with one another while on board the ship — it also works at Castaway Cay! It used to be that Disney used a paging system for Youth Counselors to reach parents – the wave phones have now replaced this! You are never more than a text message or a phone call on your wave phone. It is possible to rent additional wave phones at the Guest Services desk. Guest Services has a limited number of these, so make your request early if you are in need of more than two in your stateroom! Please be aware that there is a $250 charge per phone that will be charged to the stateroom account for phones that have gone missing, are damaged, or not returned to the stateroom prior to debarkation.
Tink's Tip:
Take a picture of your wave phone prior to when you depart your stateroom for the last time so if your wave phone is reported missing, you have a way of saying, "we left it there and here's the proof!" Rarely is there a problem, but our advice is to be better safe than sorry!
Another Tink's Tip:
Children are known to lose things, and a lost wave phone can be costly. Consider bringing a secure cell phone sized pouch that attaches to a lanyard – it is harder to lose an item around your neck than an item that falls out of your pocket!
Using Your Wave Phone
Turning the Phone On and Off: Press and Hold the Red Phone key for a couple of seconds.
Lock/Unlock: In Idle Mode, press the OK key, and then press the Lock soft key. To unlock, press the OK key, and then press the Unlock soft key.
To Make a Call: In Idle mode, type the number you want to dial, and then press the Green Phone key.
When Dialing …..
Wave Phone to Wave Phone: simply dial the phone number.
Wave Phone to Stateroom Phone: dial 41 + the stateroom number.
Stateroom Phone to Wave Phone: dial 41 + the wave phone number.
Any Shipboard phone to Wave Phone: dial 41 + the Wave phone number.
Answer a Call: Press the Green Phone key.
End a Call: Press the Red Phone key.
Reject a Call: Press the Reject soft key.
To write a Text Message Using Your Wave Phone: In the Idle mode, press the Menu soft key, choose Messaging, press New and Draft. Now you can enter the text and follow the directions to send.
Miscellaneous Things to Know About:
Energy Efficient System:
On the
Dream
and the
Fantasy
, you need to insert your Key to the World Card into the slot on the wall next to the door to activate the lighting inside your stateroom. Tink's Tip: Bring a discarded Gift Card or something credit card sized (not your working credit card!) to use. It is rather easy to shut the door to your stateroom and realize that you left your KTTW card back inside in your light slot – and you are locked out to retrieve it!
Ice Delivery:
If you require ice during your stay, let your Stateroom Host know. Your Host will keep your bucket full throughout your vacation if you ask him/her to do so.
Hairdryer:
The ships all have hair dryers in staterooms. On the
Dream
,
Fantasy
, and the
Magic
you will find a full size hair dryer (including a diffuser for people with curly hair). On the
Wonder
and still on the
Magic
, there are dryers on the wall of the bathroom — these wall mounted dryers are not very powerful. If you do bring your own hair dryer, do not use the 110V square outlet for your hairdryer. Use the round 220V electrical outlet located at the desk.
Shower:
When showering, remember to close the shower room door to avoid the steam activating the fire safety system.
Plug Ins:
The number of outlets in the stateroom can sometimes be a challenge for our clients who have numerous electrical gizmos and gadgets. Be sure to ask your stateroom host if there are outlets around your stateroom that you haven't discovered! Personal power strips brought on board are not allowed – Disney restricts them as a fire hazard. If they are discovered in your stateroom, they will be confiscated and returned at the end of the cruise. Disney knows that guests want outlets, so they designed more outlets into the
Dream
and the
Fantasy
during the building phase. The newly reimagined
Magic
also has new outlets in the staterooms, including an iHome clock that helps recharge some of the older iPhone models.
Personal Irons are a No-No:
Do not bring an iron or a steamer on board. DCL will confiscate them as they can be a fire hazard. There are irons in the laundry rooms on board for guests to use.
Large Size Cups:
Free soda is available up on the Pool Area deck. Consider bringing your own large size cup to avoid having to go back and forth to get refills in the small cups that
Disney Cruise Line
provides. You can also purchase large size insulated Tervis cups on board (and they make great souvenirs!) Some people even bring portable cup holders (like you would get for drinks at take out) so that they can easily transport several beverages back to their stateroom all at once.
Laundry Rooms:
There are laundry rooms scattered all over the ship, so ask your stateroom host/hostess for the location of the one nearest to you. You use your KTTW card to operate the washers and dryers. There is laundry detergent and softener for purchase. Tink's Tip: Bring your own detergent and softener sheets in a ziploc bag. DCL does supply a laundry bag in your stateroom, but it is small. Consider bringing your own laundry bag – you can find them for $1 at the Dollar Store!
Laundry Service:
DCL does have a dry cleaning and laundry service on board. A price list for this is in your stateroom. You can have your clothes pressed onboard for half the price of cleaning. All you have to do is gather up your wrinkly clothes out of your suitcase and send them out to be pressed. The turn-around time is usually very short, and then you don't have to deal with using irons in the laundry room when the sun is beckoning you out on the pool decks!
Packing:
A quick word on packing. Don't overpack! Think wearing swimsuits during the day, shorts or coverups when you aren't in your swimsuit, some nicer clothes for dinner, and some fancier garments for formal and semi-formal night. You can take advantage of the laundry room to wash your essentials – and think of doing this on port days when the laundry rooms aren't as busy. Disney has changed the dress code for the main dining rooms. Most nights you can go cruise casual (just no swimwear or tank tops, but shorts are okay if you don't feel like dressing up). Yes, some people do pack tuxedos and long gowns for formal night, but other people forego this. You can also rent a tuxedo beforehand and have it delivered to your stateroom. And those little black dresses don't take up much space in your luggage!
Also don't waste space in your suitcase for bringing beach towels. Towels can be had everyone! There are always towels up on the pool decks. If you need more towels in your stateroom, just ask your stateroom host. On Disney's island of Castaway Cay, there are towels available for you to grab when you get off the ship. When you are on Disney sponsored port excursions, towels are usually at your meeting point, or you are reminded to bring them with you from the ship (you can pick them up on the pool deck).
Other items not to pack in your suitcase are pool noodles, inflatable mattresses, and lifejackets. Disney has its own life jackets for passengers. Noodles and other inflatable toys for the pool aren't allowed, and there really isn't room for them in the pools anyway. When you are basking in the sun at Castaway Cay, you can rent tubes and mattresses for playing in the ocean. The Disney tubes are clear and don't obstruct the lifeguards view of swimmers.
Disney Cruise Line
has life jackets for swimming at no cost by the pools onboard and at Castaway Cay. If you snorkel at Castaway Cay you are required to wear their life jacket. As for snorkeling gear, you can rent your own equipment on Castaway Cay. Any official snorkeling excursion booked through Disney will include the equipment. If you book with an outside company, they usually provide the equipment as well.
Diapers:
Passengers bringing along wee ones in diapers know that babies can use up a lot of diapers on a vacation. The good news is that you don't have to bring a ton of them with you on board. Disney has partnered with a company called
"Babies Travel Lite"
, and you can order ahead of time lots of different baby supplies and have them waiting for you in your stateroom.