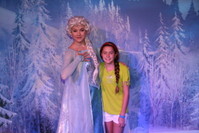 When I was on the Disney Magic in the Mediterranean this summer, one special new thing my sister and I got to do was experience the Frozen Deck Party up on the top deck. It was lots of fun dancing and singing to Frozen music. Elsa, Anna and Kristopf showed up — and it even snowed!
During our seven night cruise there was a Frozen scavenger hunt where you had to figure out daily clues in order to get a cool prize at the end. I'm not telling what the prize was in case some of you get to do this on your cruise! I will give you a hint: it has something to do with Frozen! Also, while my family was on board, I got to go to a special Frozen meet and greet in Animator's Palate. Unfortunately, Elsa was feeling "under the weather" so she didn't make it there. However, there was another opportunity to have a special Meet and Greet with her.

I highly recommend going on a Disney Cruise that has the Frozen Deck Party. It was lots of fun!!