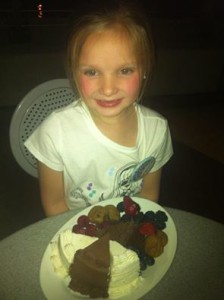 Written by Tink's Vacation Planner, Vanesssa.

Do you (or anyone in your party) have food allergies? My daughter, now age 10, has suffered from a life threatening tree nut allergy since age 2. The good news is that there is no "suffering" in Walt Disney World®! The cast members at Walt Disney World® take extra special care of their food allergic guests. This extra care not only puts this nervous mama's mind at ease, but also put my daughter's mind at ease which is paramount to our enjoyment of a meal. At the start of each meal, whether it is counter service or table service, a special food allergy menu is provided. This menu gives great information as to which foods on the menu are safe for the person with the allergies. Not all places have these menus yet, but if you find that is the case, no worries, a Disney chef is happy to come speak with you directly. Perhaps some of the best service is at the buffets, where a Disney chef is available to personally walk around with the food allergic guest showing them all the various foods that are safe for consumption.

Our family has even attended the Wishes Dessert party at the Magic Kingdom. Anyone who is familiar with peanut and/or tree nut issues knows just how difficult it is to find safe desserts. Especially since many of them are prepared in a bakery where there is a high likelihood for cross contamination with nuts and/or nut products. At the dessert party, the chef brought my daughter her very own plate of safe desserts!! She was so excited to have so many items to choose from!
Breanna even got to have her taste of "The Grey Stuff" at Be our Guest. They were able to make her own Master's Cupcake (available at both breakfast and lunch) AND she has also had "The Grey Stuff" at dinner.

Disney is world renowned for its best in class service in many areas and certainly shows why when making their food allergic guests feel comfortable and safe. I have yet to feel this level of comfort at any other restaurants outside of Walt Disney World! "And now we invite you to relax, let us pull up a chair as the dining room proudly presents – your dinner!"