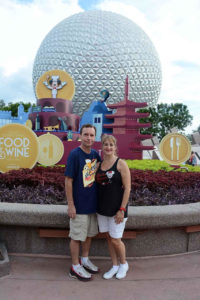 Written by Tink's Vacation Planner, Monica.

Do you enjoy trying new foods from around the world? Do you enjoy sampling beer, wine and spirits from other cultures? If the answer is yes, then the EPCOT International Food and Wine Festival is for you! For two months, beginning September 14, 2016, the World Showcase turns into a "foodie heaven"! In addition to the ten permanent pavilions, there are over 20 additional kiosks serving samplings from around the world. There are representations from 6 different continents to be explored by everyone of all ages!

I consider myself a "foodie" and have enjoyed the Festival for 5 out of the last 6 years. A couple of summers ago, I was diagnosed with celiac disease and one of my first thoughts was, "Can I still enjoy the Food and Wine Festival?" I am so happy to say, the answer is a resounding "YES!!" The "Festival Passport", a pocket sized booklet, outlines the menus for all of the kiosks and "gluten free" options are clearly noted with a "GF" indicator. Additionally, there are Vegetarian and "Kid Friendly" options also noted in the passport.