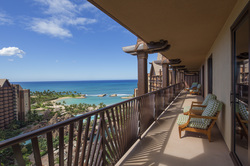 Tink's vacation planners love going to Aulani, A Disney Resort & Spa. One of our vacation planners, Michele, recently traveled there with her family and offers future vacationers these tips:
1. Don't forget the new infinity pool! They actually have photographers that will take your picture with the ocean in the background and then with Aulani in the background right in the pool. We got some fantastic family pictures there (even if our hair did look wet and a bit weird!) Plus if you go underwater, you can hear dolphins and whales singing! They also have amazing rock work that is lit up at night. The hot tub right next to the pool looks built into the rock. It is truly the most amazing pool. They also have an adorable kids water play area nearby and an adults only pool area with a bar as well.

2. Another awesome thing to look for besides Menehune are the animals carved into the rockwork in the Waikolohe valley – they have all of the animals that are native to Hawaii carved there: such as dolphins, Monk seals, and sea turtles.

3. The Menehune game makes looking for the menehunes even better, plus it's free! You just have to show your key card at Community Hall to check out the little Ipad device that turns the experience into a game.

4. Also, the boogie boards and sand toys at the beach are free when you show your Aulani wristband, so if you are planning to spend the day at the lagoon, make sure you go early to grab a board and toys so you will have use of them for the day. You can also rent snorkels for the lagoon.

5. Renting the snorkels and doing Rainbow Reef at least once early in the vacation is a must! If you like it, the length of stay pass is much cheaper and will save you money in the long run. It is the only private snorkeling lagoon in Oahu.

6. Another amazing thing my family found was that if you were facing the Aulani lagoon, and walked to the right to the next hotel, following a little path, there is a rocky beach area where monk seals and green sea turtles often come out of the water to sun themselves. It was an amazing spot to see them up close. It is much rougher water than the Aulani, so be careful if you are going to snorkel. Also wear shoes due to the rocks.