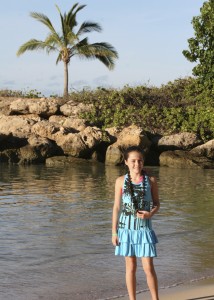 Written by Skye (age 10).

First, the pool. Aulani is very big. The water in the pool gleams in the sunlight. The pool is connected to a lazy river, and when you are floating on the lazy river make sure that you look out for the menehunes.

Second, slides. The slides at Aulani are AWESOME! On one of the slides you need a raft (which is provided). It turns, and the drops are so amazing. The second slide is very dark. It has fast turns and at the very end you drop straight down. I would not recommend this for little kids. I was nine when I went and was a little scared. But my sister wasn't scared at all, and she is the same age as me.

Third, snorkeling. Right by the pool is sort of a mini lagoon. You put on a life vest and a snorkel and off you go. Fun Fact: there are two menhuenes at the bottom of the mini lagoon. There are many types of fish to see.

I loved going to Aulani. I hope you get to go there someday too. Have a magical day!