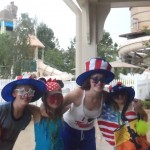 Our families favorite thing to relax at Walt Disney World is to hang by the pool and play all of the fun games that they have. We love it when we have friends with us to share in all of the fun. We especially love holidays poolside at Disney World. The Cast Members always have such fun "prizes" to giveway to us. ~Submitted by Kristin
| | |
| --- | --- |
| This depends on where we are at…at Walt Disney World, the whole family agrees it has to be riding the TTA (Tomorrowland Transit Authority). It is so relaxing and you get great views of the park. To get away from the crowds for Wishes, we really enjoy sitting on the shores of the Polynesian Resort where we get to see the Electric Light Parade as well as Wishes. At Vero Beach, the whole vacation is down time for us! We set up on the beach in the morning and float the whole day away in the ocean. If you've never been to Vero Beach…you should give it a try! Finally, on a Disney Cruise, Castaway Cay is our favorite downtime. We are serious beach people and love to lounge in the chairs or float in the water! ~Submitted by Jen | |
My favorite down-time activity would be a stone massage at the spa on DCL. It is the ultimate in relaxation and paired with a couples choice package is good alone time for any couple. While Jim also enjoys that, he would have to say that his favorite down-time activity is hanging at the Cove Café having a cup of cappuccino and chatting with the crew member at the bar. By the end of any cruise he is best buddies with the people at the Cove. As for my kids, they tell me that their favorite activity is just taking time out, hanging at the cabin and catching up on Disney movies they wanted to see or just watching cartoons. ~Submitted by Mindy S.
| | |
| --- | --- |
| My family has several favorite down-time activities. If it is a nice warm day, we love hanging out by the resort pool. The Cast Members at the resorts have fun activities by the pool that my kids really enjoy. At night we love to watch a movie that the resort plays on an outdoor screen. Our other down-time activity is going resort hopping. Each resort offers a unique and fun atmosphere. We love going to Animal Kingdom Lodge to watch the animals and the Grand Floridian is our favorite during the holiday season to see the gingerbread house and get some roasted chestnuts. ~Submitted by Lynn | |
My favorite activity is the Rainforest Room on the cruise ships. My husband chimed in to say that the couple's choice massage we had on our last cruise was his favorite way to spend some down time. Our daughter? Her response was "downtime? I want to go to the parks!" ~Submitted by Kim

My favorite thing to do in my downtime on a Disney Cruise is to find a deck chair in an out of the way place and kick back with my kindle and read while I enjoy the ocean breeze and the feeling that I have the whole ship to myself. ~Submitted by Sheri
My son, Connor, says that the pool is a great place to take a break when you are at Disney World. My husband loves to relax on our verandah on Disney Cruise Line while reading a book. I say you can rest at home, when I go to Disney World I am all about spending as much time in the parks as possible. If you really need some downtime, check out the less crowded (and air conditioned!) attractions such as Carousel of Progress at Magic Kingdom and Ellen's Universe of Energy at Epcot. ~Submitted by Michele O.

Scott: I enjoy sitting in the hot tubs onboard the Disney Cruise Ships, especially the Dream and Fantasy! It is so relaxing and beautiful to look out at the ocean or the port of call we are docked at! Christy: I enjoy dropping Evan off at the Oceaneer Club/Lab in the morning and then relaxing out in the sun. Evan: I enjoy riding all the different modes of transportation at Walt Disney World (bus, tram, monorail, and boat.) Especially the monorail!! ~Submitted by Scott and Family
My favorite "down time" so far was having the BBQ at SSR with our old and new friends. If your lucky enough to be at Disney at the same time as some friends, it is fun to hang out at the pool for a while just talking amongst yourselves and enjoying some refreshing beverages together, without the need to rush to one attraction or another. ~Submitted by Michele S.