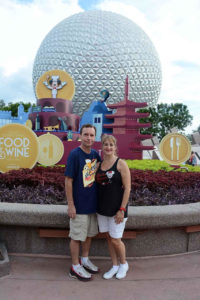 Written by Tink's Vacation Planner, Monica.

Do you enjoy trying new foods from around the world? Do you enjoy sampling beer, wine and spirits from other cultures? If the answer is yes, then the EPCOT International Food and Wine Festival is for you! For two months, beginning September 14, 2016, the World Showcase turns into a "foodie heaven"! In addition to the ten permanent pavilions, there are over 20 additional kiosks serving samplings from around the world. There are representations from 6 different continents to be explored by everyone of all ages!

I consider myself a "foodie" and have enjoyed the Festival for 5 out of the last 6 years. A couple of summers ago, I was diagnosed with celiac disease and one of my first thoughts was, "Can I still enjoy the Food and Wine Festival?" I am so happy to say, the answer is a resounding "YES!!" The "Festival Passport", a pocket sized booklet, outlines the menus for all of the kiosks and "gluten free" options are clearly noted with a "GF" indicator. Additionally, there are Vegetarian and "Kid Friendly" options also noted in the passport.

I had the opportunity to speak with Disney's Chef George, who is currently overseeing the "zone" which includes the New Zealand, Australia, Farm Fresh and other nearby kiosks. He was quite chatty and provided guidance on how to approach any food allergy while enjoying the Festival. He suggested that you can ask to speak to the chef on site at the kiosk, or have cast members radio to the kitchen to check the ingredients. For example, I inquired if mussels at New Zealand were gluten free if I requested them without the breadcrumb topping. Chef George was quick to point out that there are actually breadcrumbs in the garlic butter sauce. Conversely, checking with the cast members at the Mexico kiosk, I was able to eat with Barbacoa Enchilada (corn tortilla filled with beef Barbacoa and covered with Oaxaca Mole sauce) if I requested no "crispy onions" (the unadvertised garnish). Cast members can be your best friends when dealing with food allergies, and speaking the Chef George only enhanced my enjoyment of the items offered.

As you can see by my pictures, there was no shortage of "safe foods" for me to enjoy! My favorite, and it has been every year, is the Grilled Lamb Chop with Mint Pesto and Potato Crunchies at the Australia kiosk. A close second was the Mojo Pork with Black Beans, Cilantro Rice and Pickled Red Onions at the Islands of the Caribbean kiosk. My "surprise like" was definitely the Pickled Beet Salad with Herbed Goat Cheese, Minus 8 Viniagrette and Toasted Walnuts.

There are a few items that I "miss" being able to enjoy. The aforementioned mussels, the Canadian Cheddar Cheese Soup, the pierogi and kielbasa in Poland and Soupe á l'oignon au Gruyère et Cognac (Gruyère and Cognac Onion Soup), just to name a few. But, I've found solutions to that problem…Disney sells a cookbook every year of recipes from the festival, so they can be made "safe" and enjoyed at your home throughout the year! Last year, I purchased the 20th anniversary edition cookbook and have used it quite a few times to enjoy the taste of Disney from my own kitchen!

There is still time to book your trip to this year's festival – it runs until November 14, 2016. If this year doesn't work, next year will be the 22nd annual festival, start looking ahead so you don't miss out! Contact your Tink's Vacation Planner to get the planning started!