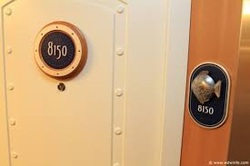 Written by Tink's Vacation Planner, Mindy S.

So, are you part of a Facebook group or a Disboard group for your upcoming Disney Cruise Line sailing and the people there seem to be talking in code about an FE? Do you feel left out? Too embarrassed to ask? Well fret no more, here is your guide to understanding what is going on.



First let's talk about the term FE. It stands for Fish Extender. Derived from the fact that outside every stateroom on a Disney Cruise, there is a fish that is used to hold communications from the ship to you. You will find confirmations of spa reservations, adult dinner reservations, and other notes from Disney Cruise Line.

People started making a pocketed cloth container that hangs from the fish (thus Fish Extender) to collect little gifts from others that were cruising on the ship. People make them on their own or if you're not a crafter, you can buy them online on Etsy. Here is an example of one you can buy off Etsy:

Once you create or buy your Fish Extender, you have it to use on all your future cruises should you so desire.

So now that you know what a Fish Extender is, the next step is to decide whether you want to participate. Most cruise groups have someone who has volunteered to organize the Fish Extender. Everyone who signs up for the Fish Extender is also volunteering to create or buy a gift for everyone else in the group and leave it in their Fish Extender during the cruise. The gifts can be as simple or as elaborate as you'd like them to be. There are no rules about what the gift has to be. In the past, I have given CD's that my husband has made, with music related to the particular cruise that we're on (a song for every port.) I have received many different things – candy, hand crafted pillow cases, magnets, toys for the kids, and lots of other fun items. You can either give the gifts anonymously or put your names on them, it's your choice.

It's a great way to interact with new friends on a cruise and there's great excitement when you come back to your stateroom and find things in the pockets.

So now that you are an expert in FE's, go out there and join the people in your cruise group and have a great time!